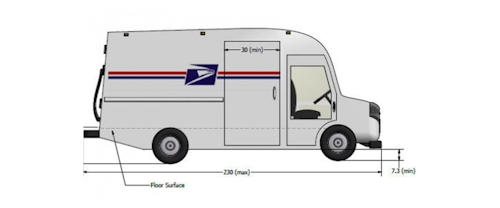 The U.S. Postal Service recently announced its selection of six companies that will build prototype vehicles in hopes of landing a multi-billion contract in coming years.
The companies were picked from 15 that pre-qualified following the launch of the USPS' Next Generation Delivery Vehicles acquisition program early last year.
They include Humvee-maker AM General, Turkish automaker Karsan, Indian manufacturing giant Mahindra, defense contractor Oshkosh Corp., prior Postal Service contractor Utilimaster and truck maker VT Hackney.
The finalists will receive a total of $37.4 million to produce 50 prototype vehicles between them over roughly the next year. The USPS will then test the vehicles over a six-month period.
The prototypes, the USPS said, would include a range of vehicle sizes, drive configurations and powertrains. Half of the prototype fleet will feature "hybrid and new technologies, including alternative fuel capabilities."
"Our goal is to obtain vehicles that will help us provide reliable and efficient delivery service for customers and honor our commitment to reducing the environmental impact of our fleet, while meeting the needs of our employees to best do their jobs safely," the Postal Service said in a statement.
The USPS also anticipated that the six finalists would subcontract with additional companies to produce the new vehicles.
VT Hackney, for example, is partnering with Workhorse Group, a maker of electric delivery trucks, to develop its chassis and powertrain. Workhorse last year indicated that the trucks could serve as docking stations for its delivery drones.
Karsan, meanwhile, entered into a joint venture with REV Group, a Milwaukee-based manufacturer that will build the prototypes.
The Milwaukee Journal Sentinel reported that the final $6.3 billion contract could bring 1,000 jobs to a former Milwaukee auto plant if Karsan's bid wins out.
The USPS also announced a request for proposals to supply "commercial off-the-shelf, right-hand drive delivery vehicles" to the agency.
"The Postal Service seeks to explore a wide variety of available options during this research phase, and will evaluate any commercial off-the-shelf vehicles proposed ... as we continue to assess the delivery fleet mix," the USPS said.