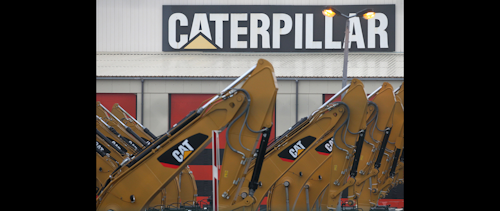 MOSSVILLE, Ill. (AP) — Hundreds of Caterpillar employees in Illinois have received layoff notices.
The (Peoria) Journal Star reports that 300 support and management employees at two sites in Mossville received job-loss notifications this week that included severance packages and 60 days' notice.
The heavy equipment maker did not disclose the number of layoffs this week at other locations in the region. The company said it would work to place some of those employees in new positions within Caterpillar and help others find work elsewhere.
The layoffs largely affected engineers in divisions that Caterpillar plans to consolidate.
The company also just announced thousands of intended job cuts in Northern Ireland and Belgium.
Caterpillar Considers Closing Belgian Site, Laying Off 2,000
BRUSSELS (AP) — U.S. heavy equipment maker Caterpillar said Friday it may close a Belgian manufacturing site and lay off about 2,000 workers, an announcement met with dismay and alarm by employees and the government.
In a post on its corporate website, Caterpillar said that in line with its September 2015 global restructuring plan, it was considering shifting production of construction equipment now at its Gosselies site to Grenoble, France, and other facilities outside Europe.
"If this intention would be confirmed, it would result in a collective layoff of about 2,000 employees and in the closure of the Gosselies site," the company said.
Prime Minister Charles Michel and Economy Minister Kris Peeters were expected to attend an emergency meeting with leaders of the Wallonia regional government, home to the Gosselies site. Paul Magnette, leader of the regional government, sought meetings with unions and company management.
Magnette told local media Friday he was scandalized by Caterpillar's announcement since the Gosselies site had been given government financial support.