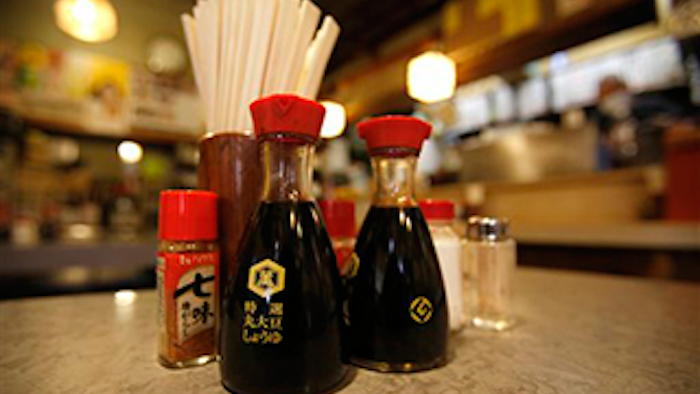 (AP Photo/Shizuo Kambayashi)
What's made of glass, has a red top and holds a popular flavoring used in Japanese cuisine? The Kikkoman soy sauce bottle of course!
While the bottle itself may seem simple enough, it has become a symbol of soy sauce not just in Japan, but around the world. 
Kenji Ekuan, the Japanese industrial designer who crafted the soy sauce dispenser, passed away at 85 last Saturday.
Ekuan, a former monk, created the tabletop bottle for Kikkoman Corp. in 1961. The design won international popularity for its flask shape, while the salty, brown condiment began flavoring many Asian cuisines.
A Japanese restaurant owner based in Tokyo, Sumi Murayama, began purchasing the Kikkoman soy sauce nearly 40 years ago.
"The best part of the bottle is its small red cap, which doesn't drip," Murayama told the Associated Press. "Its simplicity perfectly fits a downtown restaurant like this."
Ekuan wanted the soy sauce bottle design to be convenient for both cooking and serving. As a child, he remembered watching his mother pour soy sauce from a big half-gallon bottle to a tabletop dispenser.
Kikkoman, the world's largest soy sauce maker, said the bottle helped to bring its brand out of the kitchen and into restaurants and family kitchens. The company has sold around 400 million bottles worldwide since its creation in 1961.