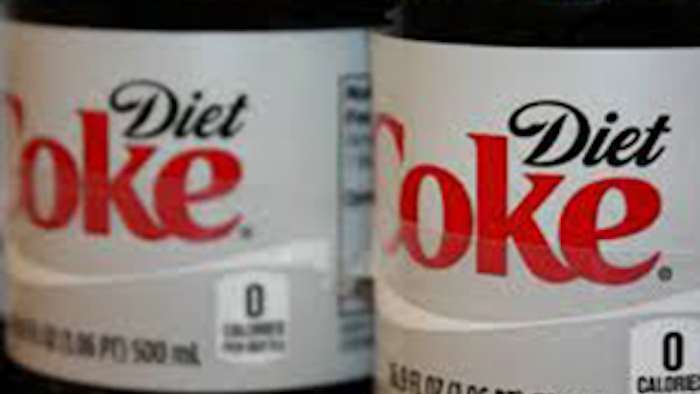 How can diet sodas be advertised as "diet" products when artificial sweeteners are linked to weight gain? That's what one consumer advocacy group is eager to know.
The U.S. Right to Know, a nonprofit organization made up of a group of Americans who look to gain knowledge of what is in our food and how it affects our health, is asking the Federal Trade Commission (FTC) and the Food and Drug Administration (FDA) to investigate Coca-Cola Co. and PepsiCo Inc. for false advertising.
The group is requesting the help of the FTC and FDA to stop the two soda giants from using the term "diet" in their advertising, branding and labeling of its Diet Coke and Diet Pepsi products, because they believe it comes off as deceptive and misleading.
Gary Ruskin, executive director of U.S. Right to Know, said in a release this morning that scientific evidence suggests that "artificial sweeteners are linked to weight gain, not weight loss."
Various scientific studies, including the Yale Journal's review of the literature on artificial sweeteners, and the Trends in Endocrinology and Metabolism review article on sugar substitutes increasing health risks, prove that use of artificial sweeteners in food and beverage products do not assist in weight loss and may actually cause weight gain.
 Federal law prohibits the use of false advertising and labeling of food and beverage products, and the group believes these sodas labeled as "diet" are doing just that; misleading consumers.
It's no secret that both Diet Coke and Diet Pepsi products are sweetened with artificial sweeteners — Diet Coke uses aspartame and Diet Pepsi uses aspartame and acesulfame potassium. So is this really a case of deception and false advertising? Ruskin and his group think so.
"Obviously, products labeled as "diet" shouldn't cause weight gain," Ruskin said.
That's why the consumer advocacy group is asking the FTC and FDA to investigate not only Coca-Cola and Pepsi, but all other companies that manufacture products that contain artificial sweeteners that may be advertised, branded or labeled as a "diet" or weight loss aid. The group hopes to determine whether these food and beverage products are considered deceptive to consumers.