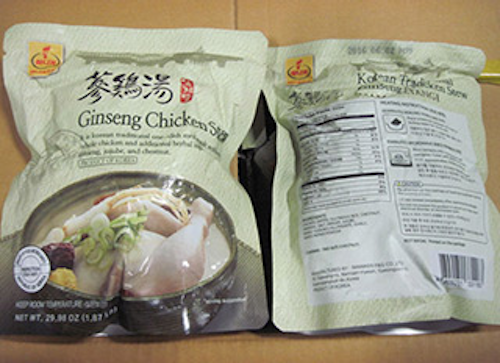 WASHINGTON, January 29, 2015 — Korean Farm Inc., a Santa Fe Springs, Calif., establishment, is recalling approximately 14,610 pounds of chicken stew products produced in the Republic of Korea that were not presented at the U.S. point of entry for inspection, the U.S. Department of Agriculture's Food Safety and Inspection Service (FSIS) announced. Without the benefit of full inspection, a possibility of adverse health consequences exists.
The chicken stew items were produced on August 24, 2014 and February 24, 2014. The following products are subject to recall:
1.87-lb. pouches of "Ginseng Chicken Stew"
1.32-lb. pouches of "Ginseng Chicken Stew"
The products subject to recall bear the establishment number "DGA 14001" inside the Republic of Korea mark of inspection. These products were shipped to a retail locations and restaurants in Alaska, California, Colorado, Idaho, Maryland, Oregon, Texas, Utah, and Washington.
The problem was discovered by FSIS import personnel during routine monitoring of import shipments using the Public Health Information System (PHIS).
FSIS and the company have received no reports of adverse reactions due to consumption of these products. Anyone concerned about a reaction should contact a healthcare provider.