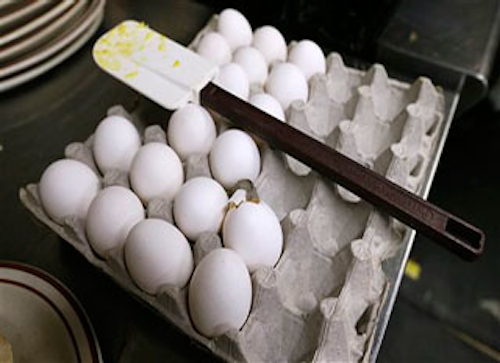 TURNER, Maine (AP) — A farm executive who pleaded the Fifth Amendment against self-incrimination in front of a congressional committee investigating an Iowa salmonella outbreak is the same person who signed a new lease on Maine's largest egg farm last month.
The Maine Department of Environmental Protection is considering a request by a Land O'Lakes subsidiary to transfer active permits to Hillandale Farms, which was involved with Jack DeCoster in the Iowa salmonella outbreak that sickened 1,900 people in 2010, the Sun Journal reported.
Hillendale, an egg producer headquartered in Pennsylvania, signed a lease to operate the farms on July 8. But the properties continue to be owned by DeCoster's corporate entities, the newspaper said.
A University of Maine veterinarian who sits on a salmonella risk reduction team for the state says Moark, a subsidiary of Land O'Lakes, had been "terrific" to work with. She hopes for the same with Hillandale.
"We are vitally interested in the health of Maine people (and) we want our state to have a poultry industry as well," said Anne Lichtenwalner, director of UMaine's Animal Health Lab. "We want transparency and we want collaboration, and I think that they are walking into a positive situation. One hopes that they embrace that."
Moark signed its lease over to Hillandale Farms Conn LLC on July 8. That agreement was signed by Hillandale President Orland Bethel, who in 2010 pleaded the Fifth in front of the Congressional Energy and Commerce Committee when he and DeCoster were asked to testify about the salmonella outbreak.
DeCoster's company managed Hillandale's Alden, Iowa, farm.
In Maine, Moark closed an egg farm in Leeds in January 2013 and another egg farm in Winthrop in March 2013, leaving only the Turner operation, with 2.3 million birds. Hillendale said in its filing that it will notify the DEP if decides to restart the egg operations in Leeds and Winthrop.
DEP spokesman David Madore said bureaus within the agency are reviewing the application to transfer the air, solid waste, water and discharge permits to Hillandale.