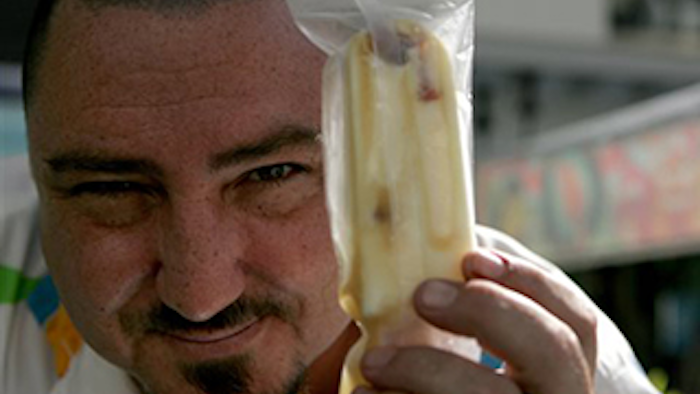 HONOLULU (AP) — In Hawaii, Spam rules. No, not the kind that you get in your email, but the kind you eat — or don't eat, as it may be for many mainlanders.
To honor Spam lovers in Hawaii, Hormel Foods released a new flavor — Portuguese sausage Spam — exclusively for the state at the Spam Jam street festival on Saturday in Honolulu. The flavor, which was available to sample at the event, may eventually be sold elsewhere in the region and internationally, the company says.
Gaby Kim, who grew up in Oahu, said she eats Spam often and always has. "I grew up eating Spam musubi a lot from 7-Eleven," she said. "It's kind of ghetto but it's good. I like the cheese one."
Spam musubi, a sushi-inspired variation, is one of the more popular forms in Hawaii. It consists of a slab of Spam, rice and sesame seeds tied in seaweed.
Many people have theories about what the name Spam actually means, but no one really knows. Many believe the name is short for "spiced ham." Others might say it stands for "shoulders of pig and ham."
But Hormel won't answer the question, saying on its website that the true meaning is known by only a small circle of former executives, and "probably Nostradamus."
Ken Daigneau, the brother of one of the founding executives for the Spam product, won $100 in a contest for naming the canned meat in 1937 when it was first introduced, according to the company website.
They say the meat is not such a mystery. They list the ingredients as pork, salt, water, potato starch, sugar and sodium nitrate.
The meat does, however, have a meaning in Hawaii. To tens of thousands in the Aloha State, it's like steak and potatoes, pasta and sauce, fish and chips, or hot dogs.
The history behind the salty luncheon meat in Hawaii goes back to World War II when the company started shipping it to military personnel stationed in the islands. Spam did not need to be refrigerated, so it could be shipped to the state without spoiling during the long journey from the mainland.
Spam quickly cross-pollinated from the military population into the local diet, and its popularity has grown ever since.
Now, Spam can be found pretty much everywhere that serves food in Hawaii: gas stations, local markets, diners and even in Hawaii's fast-food chains such as McDonald's and Burger King.
The restaurants participating in this weekend's event served up creative versions of the classic. There was barbecue Spam, Spam and fresh ahi katsu with wasabi curry and fresh mango salsa, and even Spam cupcakes.
Tina Wazney of Pearl City tried the cupcake that featured a sprinkling of Spam on top and a hearty slab baked in. "It's good but a little strange," she said of the treat. "The boy likes it though," she said, talking about her young son.
Fried Spam and eggs is a staple breakfast combo in the state, but people here eat it for lunch and dinner as well. In fact, people in Hawaii eat more Spam than any other state in the nation, consuming nearly 7 million cans per year, according to the Hormel website.
Charles Coffelt of Sacramento, California, said he doesn't like Spam very much, but wanted to come and see the event. "I can eat it," he said, "but it's one of those things that your dad makes you eat when you're a kid."
Of all the flavors he has tried, he said he likes the traditional fried Spam the best. "It tastes like a cross between bacon and ham."
According to event organizers, last year Spam Jam raised about $25,000 in donations for local charities including the Hawaii Foodbank, which feeds low-income and homeless families in the state. The event hosts about 25,000 people each year.