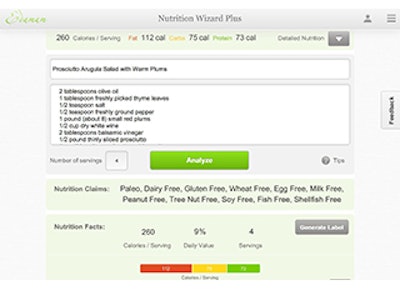 NEW YORK (PRNewswire) — Edamam, a semantic technology company revolutionizing the nutrition information market with a data-driven approach, launched today its Nutrition Wizard Plus product, a faster, cheaper cloud-based alternative to traditional nutrition analysis tools. The Nutrition Wizard Plus uses natural language processing for real-time nutrition analysis of recipes or ingredient lists. At the low price of$5.95 a month, users get unlimited usage and can access the service from anywhere, unlike current industry standard solutions. Furthermore, they can save, print and export analyzed recipes, personalize daily nutrient intake percentages and generate FDA-style nutrition labels.
"Initial testing of our Nutrition Wizard Plus product has seen significant interest from dietitians, nutritionists, restaurant owners and catering companies. Compared to the tools and software currently available in the market, Edamam's Nutrition Wizard Plus offers a much more affordable alternative with a greater convenience and ease of use," shares Victor Penev, Edamam's Founder and CEO.
An even more affordable alternative is Edamam's Nutrition Wizard Basic product, retailing at only $2.95 a month and offering the same great natural-language-based, real-time nutrition analysis. Edamam furthermore offers a world-class diet and health-driven recipe search, based on a database of 1.5 million nutritionally tagged and analyzed recipes.
"Our next step would be to create native iOS and Android app versions of the Nutrition Wizard products and to expand the offering beyond English," added Victor Penev.
Edamam's Nutrition Wizard Product is also available online at www.edamam.com/nutrition_wizard.
About Edamam
Edamam organizes the world's food knowledge and powers nutrition solutions for businesses in the food, health and wellness sectors. Using a proprietary semantic technology platform, it delivers real-time nutrition analysis and diet recommendations via API or custom implementations. Edamam's technology helps customers answer for their clients the perennial question: "What should I eat?"