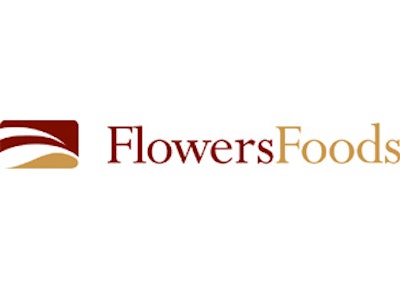 (AP) — Flowers Foods Inc.'s shares soared Monday on the bakery's plans to buy Hostess Brand Inc.'s bread business, including its iconic Wonder bread brand.
THE SPARK: Flowers announced late Friday that it had signed two asset purchase agreements with Hostess that made it the "stalking horse bidder" that sets the bar for the court-supervised auction of the company's bread business.
Flowers made a $360 million bid for the Wonder, Nature's Pride, Merita, Home Pride and Butternut bread brands, along with 20 bakeries and 38 depots. It bid another $30 million for Beefsteak.
THE BIG PICTURE: Hostess announced in November that it was shutting down its business and selling its bread and snack cake brands. The company filed for Chapter 11 bankruptcy for the second time in less than a decade this January, citing costs associated with its unionized workforce.
Flowers could still face competition from higher competing bids but is widely expected to be the winner. The final deal must be approved in bankruptcy court.
Flower Foods, based in Thomasville, Ga., is best known for Tastykakes but also makes breads including Nature's Own and Cobblestone Mill.
THE ANALYSIS: Key Banc Capital Markets analyst Akshay Jagdale reiterated a "Buy" rating on shares of Flowers Foods and maintained his $28 price target, given the pending deal.
The analyst said that he doesn't think a higher bid is likely, given how extensive the bidding process has been so far and the estimated $12.6 million break.-up fee involved in the agreement. He also said that his review of court documents suggests that the sale would be free of nearly all liabilities associated with Hostess assets.
Jagdale said that Flower Foods has a strong management team and is one of the lowest cost producers of bread in the U.S. He expects the company will continue to gain market share and its profits will improve as a result of the deal.
SHARE ACTION: Shares of Flowers jumped $1.88, or 7.6 percent, to $26.71 in afternoon trading. Its stock price has increased nearly 30 percent since early November on investor expectations that it would benefit, either by gains in market share or a potential acquisition of remaining brands, from the demise of Hostess.