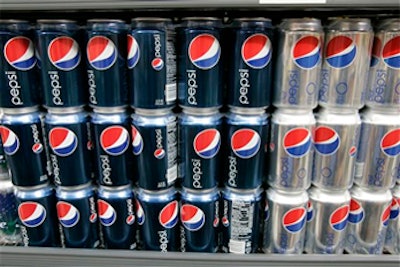 NEW YORK (AP) — Americans are gobbling up more of PepsiCo's Frito-Lay snacks. As for the company's sodas, customers are apparently less enthusiastic.
That's the quandary for PepsiCo Inc., the soda and snack maker that also owns Gatorade, Mountain Dew, Tropicana and Quaker Oats. Although the company's Cheetos, Doritos and other snacks dominate supermarket shelves, its North American drinks unit has perennially played second fiddle to the world's No. 1 beverage maker, Coca-Cola.
That story line played out yet again in the company's third quarter, with PepsiCo reporting a better-than-expected profit as stronger snack sales helped offset a 4 percent volume decline for the North American drinks unit.
Soda volume fell in the region fell in the "mid-single digits," which PepsiCo partly attributed to its strategy of holding or raising prices. Uncarbonated drinks fell in the "low-single digits."
Coca-Cola reported stronger results for its North American unit a day earlier, with overall volume up 2 percent. Uncarbonated drinks rose 5 percent and soda volume was even from a year ago.
Despite the volume declines in PepsiCo's North American beverage unit, CEO Indra Nooyi stressed in a conference call with analysts that the broader $95 billion beverage industry remains a "pretty damn good business" in terms of generating cash for the company.
She also suggested that the company's fortunes could turn as people move away from sodas, given PepsiCo's leadership position in uncarbonated drinks. Gatorade, for example, leads Coca-Cola's Powerade in the sports drink category.
She noted that sodas now account for about 40 percent of the beverage industry, down from more than 50 percent a decade ago, and that the shift away from carbonated soft drinks continues.
In the meantime, PepsiCo's drink business remains a sensitive topic for the company. Activist investor Nelson Peltz's Trian Fund Management is pushing the company to spin off the beverage unit entirely and merge its remaining food business with Oreo cookie maker Mondelez International.
Executives at PepsiCo have shot down the suggestion, saying the company plans to move ahead as a combined drinks and snacks maker. Still, PepsiCo is reviewing a restructuring of its North American beverage unit and plans to update investors on that front early next year.
For the quarter, PepsiCo said higher prices helped lift revenue in Europe by 3 percent. Snacks volume rose while beverage volume slipped.
In the region encompassing Asia, the Middle East and Africa, revenue rose 6 percent on higher prices when excluding the impact of restructuring changes and unfavorable currency exchange rates.
PepsiCo earned $1.91 billion, or $1.23 per share, for the three months ending Sept. 7. That compares with $1.9 billion, or $1.21 per share, a year ago when there were more shares outstanding.
Not including one-time items, the company said it earned $1.24 per share, above the $1.17 per share analysts expected.
Revenue rose 2 percent to $16.91 billion, less than the $17.02 billion Wall Street expected. The company stood by its full-year earnings forecast for core earnings per share to grow 7 percent.
Shares of PepsiCo rose 1.5 percent to $81.84. Over the past year, the stock is up almost 15 percent.