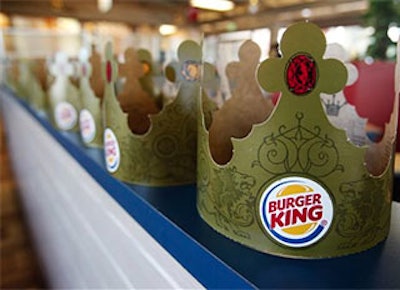 In this Aug. 23, 2010, file photo, Burger King crowns are on display in a Mountain View, Calif. store. Burger King said Monday, Oct. 28, 2013, that it saw sales trends in North America turn positive after last month's launch of "Satisfries," which have 20 percent fewer calories than its regular fries because of a batter that absorbs less oil. (AP Photo/Paul Sakuma, File)
(AP) — Burger King Worldwide Inc.'s shares jumped Monday after Goldman Sachs analysts took an upbeat position on the fast-food chain's growth potential.
A group of analysts said in a research note that they see the company as being in the "Fountain of Youth" stage of its life cycle, with big gains ahead in international markets. They initiated coverage with "Buy" rating and $25 price target.
Burger King has been revamping its business since it was purchased in 2010 by 3G Capital, a private investment firm run by Brazilian billionaires. The company has been selling more restaurants to franchisees in an effort to reduce overhead costs. It also has put a heavy emphasis on expanding in international markets where there is a growing appetite among consumers.
The analysts say they expect much of the company's growth will be in fast-growing emerging markets. They said the number of international sites will likely surpass the number of North American sites by 2014 or 2015, and that by 2020, the company may be composed of almost two-thirds international sites. They also said they expect the company to recapitalize in 2015, which could lead to a significant return of capital to shareholders.
Shares jumped 3 percent to $21.02 by midday. Its stock is up roughly 24 percent in 2013.