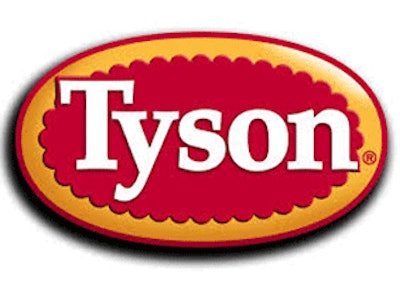 SPRINGDALE, Ark. (AP) — Tyson Foods Inc. shares jumped Monday on strong profit and revenue gains from the meat processor.
The Springdale, Arkansas-based company acquired Hillshire Brands in August, which helped boost its sales of prepared foods. It also benefited from increased demand and higher prices for chicken during the quarter, as feed ingredient costs have fallen.
Tyson said that it earned $137 million, or 35 cents per share, for the fiscal fourth quarter that ended in September. Its earnings, adjusted for non-recurring costs and costs related to mergers and acquisitions, came to 87 cents per share, topping Wall Street expectations.
Analysts surveyed by Zacks Investment Research were anticipating earnings of 77 cents per share.
Tyson's revenue rose to $10.11 billion in the period, which topped market forecasts of $9.88 billion, according to Zacks. The company generated revenue of $8.89 billion in the fourth quarter last year.
The company also increased its quarterly dividend to 10 cents per share for its Class A common stock and 9 cents per share for its Class B common stock. This is up from its most recent dividend of 7.5 cents per share for Class A and 6.75 cents per share for Class B shares.
The increased dividend is payable on Dec. 15 to shareholders of record as of Dec. 1.
Tyson said that it expect fiscal 2015 adjusted earnings between $3.30 and $3.40 per share. It forecast full-year revenue of $42 billion.
Analysts polled by FactSet had forecast earnings of $3.33 per share on revenue of $42.59 billion.
Shares of Tyson increased 5 percent to $42.70 in afternoon trading. The company's shares have climbed 22 percent since the beginning of the year, while the Standard & Poor's 500 index has increased 10 percent.