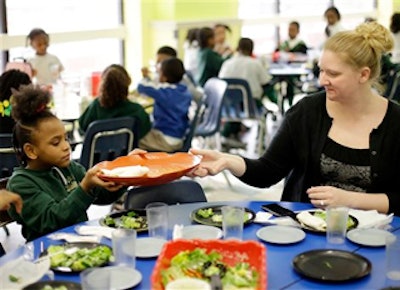 PHILADELPHIA (AP) — It sounds more like a restaurant order than a school lunch menu: baked ziti with a side of roasted fennel salad and, for dessert, cinnamon apple rice pudding.
But that's one of the meals offered in the cafeteria at People For People Charter School in Philadelphia. And it's served family-style. Students pass serving dishes around circular tables, where they eat off plates, not cafeteria trays, and use silverware instead of plastic utensils.
People For People is one of four schools participating in the "Eatiquette" program, which was designed by local chef Marc Vetri to provide nutritious, low-cost lunches in a setting that reinforces social niceties and communication skills.
"This is more than just eating healthy," Vetri said. "This is learning how to interact with each other."
The chef, owner of the acclaimed Vetri and Osteria restaurants in the city, plans to expand Eatiquette to another half-dozen schools this fall. The move comes as the U.S. Department of Agriculture weighs broad new standards that would impose fat, calorie, sugar and sodium limits on almost all foods sold in schools.
Eatiquette is predicated on the use of fresh ingredients prepared on site. Processed meats are prohibited, and schools follow seasonal menu cycles to ensure there's no need for canned or frozen produce. The Vetri Foundation For Children donates round tables and chairs to replace traditional rectangular tables and bench seating.
At People For People, where about 80 percent of students qualify for free or reduced-price meals, the staff prepares nearly 540 lunches per day. The meals fully comply with federal school lunch regulations and cost about $1.50 to make, excluding labor.
That's higher than what the school paid for meals before implementing the Vetri program last year. People For People operations director Andre Williams would not be more specific, but said officials are trying to offset the increase through grants and other means.
"It costs more, but we believe there is a benefit," Williams said.
Each weekday before lunch, student "table captains" don black chef coats, lay down plastic tablecloths, create place settings, pour water and serve salad. After their peers arrive and eat the first course, captains return to the kitchen to bring back the entree and, later, dessert.
That's a lot less chaotic than the old way of lining up buffet-style, which often led to pushing and shoving, said seventh-grader Kealani Gambrel. And the meals aren't bad either, she said after sampling Tuesday's menu: Romaine lettuce and carrots topped with homemade tomato vinaigrette, roast beef and garlic-roasted potatoes, and an apple for dessert.
"It's healthier for us to eat," said Gambrel, noting students now get salads every day. "I think they should add just a little bit of seasoning to the food."
But many of her peers — even while praising some new dishes like curried chicken — complain that they miss the French fries, pizza, burgers and cheesesteaks they ate last year.
That doesn't surprise Margo Wootan, a nutrition lobbyist for the Washington, D.C.-based Center for Science in the Public Interest. Schools have a hard time making wholesome food seem appealing because students have grown up in a "junk-food culture," she said.
"Maybe someday a kids' meal won't be synonymous with chicken nuggets, fries and a soft drink," Wootan said. "But we're not there yet."
People For People chef Kirk Holloway acknowledged the new menu — which includes items like barley salad and lemon herb roasted chicken — leans toward an "adult palate." But he noted students in lower grades are willing to try new things, more than upperclassmen used to eating cheese fries and chicken wings.
Second-grade teacher Marisa Szynal, who sat with some students during a recent lunch, said the benefits of the healthier, family-style meal carry over from the cafeteria to the classroom.
"They're not as wound up in here, so when we go upstairs (to class) it's a lot easier to transition," Szynal said.
Ideally, the benefits will extend even beyond the school. Vetri hopes students will be inspired to replicate their new school lunch experience in their homes and communities, bringing all types of families back to the table to bond.
Too many people forego nourishing, shared meals for the sake of convenience, he said. But taking the extra time is worth it.
"I don't think you can name anything worthwhile and positive that isn't more work and more effort," said Vetri. "The alternative is sitting on the sofa eating a bag of Doritos, watching television."