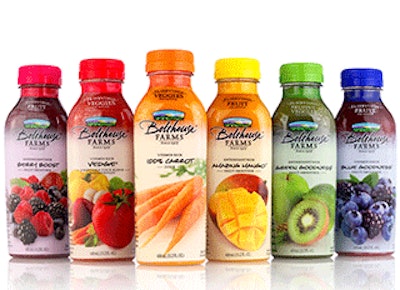 BAKERSFIELD, Calif. (PRNewswire) — Bolthouse Farms, one of the largest producers of baby carrots and premium juice beverages in North America, announced today the launch of Bolthouse Farms Kids™. The new line of kids snacks is based around real fruits and vegetables with no added preservatives and is designed for maximum kid craveability. In line with the Company's mission to make the healthy choice the easy choice, Bolthouse Farms will help retailers create a new snack destination for kids in the produce section, offering added convenience for parents looking to make smart choices for their children.
"The launch of Bolthouse Farms Kids™ underscores our commitment to continually inspire healthy eating in children through products and flavors that make fruits and vegetables fun," said Jeff Dunn, President and CEO of Bolthouse Farms. "Junk food is winning the war on grabbing the attention of Americans, particularly our kids. Our hope is that by introducing a line of products that kids want to eat and moms can feel good about we can drive a lasting love of these foods and a healthier future for the next generation."
The new refrigerated snacking destination created by Bolthouse Farms is intended to drive an evolution in kids' snacking habits similar to what has taken place with adults over the last several years, with more people reaching for better-for-you options in the refrigerator. It will feature Bolthouse Farms Kids™ products and other refrigerated snack options designed for children. The set will vary by retailer, but may include items such as pre-cut fruit, fruit purees and fruit-and-vegetable snack packs. To maximize consumer traffic to the kids snacking section, Bolthouse Farms will provide retailers with a full merchandising system to implement on shelf and will maintain the destination on an ongoing basis.
The line will feature seven unique products across three categories – Smoothies, Fruit Tubes and Veggie Snackers – designed to appeal to parents of children ages 4-11. In consumer tests, kids and moms reported the products tasted fresh, were fun to eat and were great options for everyday snacking.
Bolthouse Farms Kids™ Smoothies will be available in Strawberry Meets Banana and Peach Meets Mango flavors. The Fruit Tubes options will include Mango Meets Banana & Pineapple, Strawberry Meets Banana and Blueberry Meets Raspberry With Greek Yogurt. The Fruit Tubes can be eaten out of the refrigerator for a creamy fruit experience or out of the freezer as a delicious frozen treat. Veggie Snackers will come in Carrot Meets Ranch and Carrot Meets Chili Lime.
Bolthouse Farms Kids™ products will be available nationwide and regionally in retailers such as Giant Eagle, A&P, Hy-Vee and more beginning August 11, 2014.
About Bolthouse Farms
Bolthouse Farms is a farm located in California's fertile San Joaquin Valley, known for high-quality consumer brands and innovative products. Bolthouse Farms is a market share leader in growing and distributing carrots. In addition, Bolthouse Farms produces and sells super-premium juices, smoothies, protein shakes and café beverages under the Bolthouse Farms® brand name. In recent years, Bolthouse Farms diversified its offerings by launching a line of premium refrigerated yogurt dressings and extra virgin olive oil vinaigrettes. The Bolthouse Farms mission is to change the way people consume healthy foods and beverages. The company was acquired by Campbell Soup Company on Aug. 6, 2012. To learn more about the company's mission and see the entire line of current products, visit www.bolthouse.com.