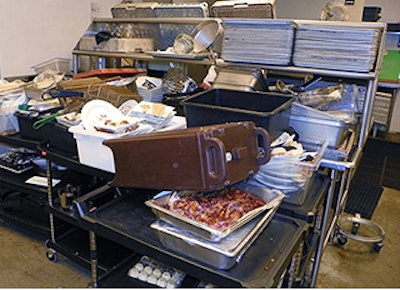 KANSAS CITY, Mo. (AP) — Fans at last month's World Series and recent Kansas City Chiefs games were endangered by filthy conditions in food-service areas at the city's two professional sports stadiums — including cockroaches, mouse feces and food kept at unsafe temperatures, according to a man who managed food safety at the facilities.
An inspection Nov. 3 by city health officials prompted by the complaints from Jon Costa found violations at 20 out of 26 food stands, including 37 critical violations, according to a report by ESPN's "Outside the Lines." The stadiums passed a follow-up inspection this week.
Costa was food safety manager at the stadiums for Aramark Sports and Entertainment, which provides concessions at sports venues across the country. A company spokesman called Costa a disgruntled employee who had raised questions for 2½ years.
"When we lose control over hygienic practices and we also combine that with poor temperature control, that could be a catastrophe," Costa said. "That is a recipe for foodborne illness. ... It's very likely temperatures are abused every game. Every game."
Costa said he took his concerns to ESPN and other media last week after Aramark senior management ignored his complaints for months. He was then placed on paid administrative leave for violating the company's media policy, he said.
Aramark spokesman Tod MacKenzie told ESPN that the "random collection" of photographs Costa sent to the network and other media did not provide proper context to support his conclusions.
"The unsubstantiated claims raised by a disgruntled employee are very troubling, as is his unknown motivation," MacKenzie said. "Especially disturbing is the fact that this individual is personally responsible and entrusted with managing food safety at the locations in question."
City inspectors who visited the stadiums Nov. 3 found "shocking" conditions, health department division manager Naser Jouhari told ESPN. He said his inspectors indicated it looked like Aramark workers "just flipped the switch off, and they walked out without doing any cleaning or removing any of the food items," which would attract insects and rodents.
Marc Bruno, chief operating officer of Aramark, said the company had hired a third-party food safety auditor. On Monday, health department inspectors re-inspected the 20 stands that had violations and said all of them had been corrected.
"We've served 3 million or 4 million fans this summer in Kansas City at those two stadiums," Bruno said. "And the food is safe, the food is high quality, and there are really no issues."
The Royals baseball team and the Chiefs football team both defended food service at the stadiums and praised Aramark's role in providing a positive atmosphere for fans.
"Food and beverage is integral to the fan experience and Aramark has been a valued partner in delivering those services to fans. We all take food service, safety and quality very seriously," the Royals said.
"We're continually looking for new ways to enhance the fan experience and, for the past four seasons, we have partnered with Aramark to transform and elevate our general concession areas," the Chiefs said.