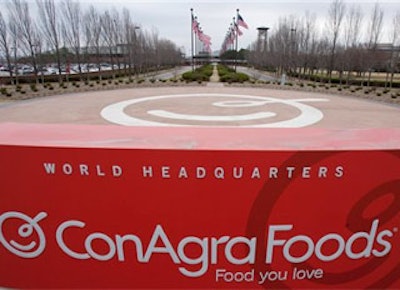 OMAHA, Neb. (AP) — A Nebraska woman has filed a false advertising lawsuit against ConAgra Foods, accusing the packaged food company of intentionally misrepresenting its Parkay Spray butter substitute as fat-free and calorie-free.
The lawsuit filed by Pamela Trewhitt, of Gretna, Monday in Omaha's federal court seeks class-action status to represent thousands of people it says have been deceived by the company's product labeling.
While the spray is marketed and sold as fat-free and calorie-free, it contains 832 calories and 93 grams of fat per 8-ounce bottle, the lawsuit says. Parkay Spray's nutrition information label also uses artificially small serving sizes of one to five sprays to understate the amount of fat and calories in the product, according to the complaint.
"Defendant knew or should have known that its product was mislabeled and engendered confusion among consumers," the lawsuit says.
Kansas City attorney Ureka Idstrom, who filed the lawsuit on behalf of Trewhitt, did not return calls Thursday from The Associated Press seeking comment.
But her lawsuit points to Internet complaints about the spray.
"For example, a contributor to (a) website ... writes, 'I could not figure out why I simply could not lose hardly even a pound, even though I was working out hard ... and monitoring calories ... for a couple of years,'" the lawsuit relays. "Well ... I was also literally taking the top of the 'fat and calorie free butter' spray and pouring it on all my carefully steamed veggies when I found out that a bottle of that stuff is 90 fat grams. I was going through two bottles a week, and working out and getting fat and unhealthy."
The company stands behind the accuracy of its labeling and "has a long-established commitment to marketing our food responsibly," ConAgra spokeswoman Becky Niiya said Thursday.
"We intend to vigorously defend this litigation," Niiya said.
The lawsuit accuses ConAgra of violating the Nebraska Consumer Protection Act, reaping ill-gotten profits from the product, intentional and negligent misrepresentation, and fraud. It seeks unspecified actual and punitive damages, although it expects those damages to exceed $5 million, as well as court and attorney costs. It also seeks an injunction to keep ConAgra from labeling its product as fat-free and calorie-free.