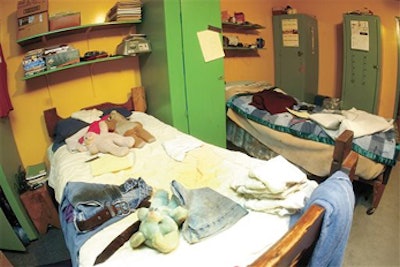 DAVENPORT, Iowa (AP) — A Texas company profited from dozens of mentally disabled men working at a turkey processing plant in rural Iowa where they were physically and verbally abused and forced to live in filthy, rodent-infested conditions, a government attorney told jurors on Tuesday.
Employees of Henry's Turkey Service engaged in "shocking and disturbing employment actions" that violated not only the Americans with Disabilities Act, but a code of basic human decency, said Equal Employment Opportunity Commission attorney Robert Canino.
He said the company should compensate 32 former employees who were mistreated while Henry's supplied them as contract workers to West Liberty Foods in West Liberty, Iowa.
Canino alleged that Henry's supervisors hit and kicked the men, knocked them down, hosed them with water and subjected them to offensive names. He said the men were exploited and abused because the company knew they were vulnerable and unlikely to complain.
"And why is that? Because of their disabilities," Canino told jurors during his opening statement.
The EEOC filed a lawsuit against Henry's, based in Goldthwaite, Texas, after state officials shut down the filthy rural bunkhouse where the men were living and took responsibility for their care in 2009.
U.S. District Judge Charles Wolle has already ordered Henry's to pay the men more than $1.3 million for wage violations from 2007 to 2009. The men were paid $65 per month — 41 cents per hour — regardless of how many hours they worked. The company received more than $500,000 annually, based on how many turkeys were processed, from West Liberty Foods for supplying the men to work on the plant's evisceration line.
But Canino said he would present "abundant evidence" to show Henry's violated federal law in other ways, by subjecting the men to a hostile environment caused by harassment and discrimination.
Henry's attorney, David Scieszinski, said he would offer an opening statement after the EEOC's case is concluded. He was joined by the company president, Kenneth Henry, who used a walker to enter the courtroom and sat silently as Canino laid out his case.
The men were required to live in a rundown converted former schoolhouse in Atalissa, a farming community near the plant, which was shut down by the fire marshal in 2009 after officials received a complaint.
"Filthy doesn't describe it," testified Denise Gonzalez, a former Iowa Department of Human Services manager who helped respond when her agency received a 2009 tip that Henry's was forcing more than 20 men to live in an unsafe environment.
"The bugs, the mice, the smells, the garbage, the paint coming off the walls, the debris," she said. "The bugs and mouse droppings in the kitchen, the rats. It was horrific."
Gonzalez, the EEOC's first witness, said the men were taken to a nearby hotel, where workers found they had obvious medical needs. One of them could not eat a waffle because his teeth were so decayed and another's hands were infected because turkey blood was "so embedded" in them, she said.
Canino noted that the men had no health insurance, received inadequate medical care and were expected to continue working through injuries and illnesses. Henry's restricted the men's freedom, not allowing them to have relationships with women or to own cellphones, and gave them harsh discipline that included being locked in rooms and, in one case, being handcuffed, he said.
At the plant, the men were sometimes denied bathroom breaks, which led to workers having humiliating accidents on the processing line, Canino said.
Canino told jurors he wasn't sure whether any of the men would be called to testify. But he said social workers would testify about how the men's lives have improved since they were taken out of that environment and sent to live in retirement homes in Texas and Waterloo, Iowa.
Canino said he expected the company's president to testify that his company was once praised in the 1970s for giving disabled men employment, but he told jurors not to be misled because the standards of care have dramatically changed since then.
The trial is expected to last two weeks at the federal courthouse in Davenport.