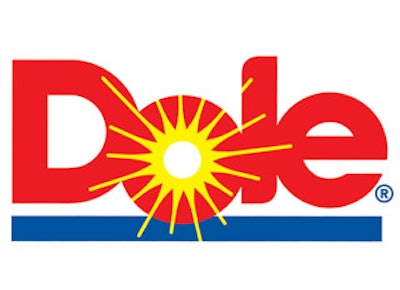 WESTLAKE VILLAGE, Calif. (AP) — Dole Food Company Inc. says it is considering a possible sale or spin-off of its packaged foods business as part of its current strategic review of the company.
The fruit and vegetable company has hired Deutsche Bank Securities Inc. and Wells Fargo Securities LLC to assist it in a strategic review. The company said late Thursday that it is in talks with third parties who have expressed interest in select businesses.
"We are continuing to look at a wide variety of potential alternatives as part of the strategic review of our businesses," David DeLorenzo, Dole's President and CEO, said in a statement. "This review continues to be a company priority in our efforts to enhance shareholder value."
He said the company is considering number of options, including a full or partial separation of one or more of the businesses through a spin-off or other capital markets transaction, as well as joint venture and sale options.
Dole said when it comes to its packaged foods business, it is exploring a possible sale as well as a possible spin-off the unit to current Dole stockholders. The company is also considering a possible separation of the worldwide packaged foods business that would combine with Dole's operations in Asia to form a stand-alone, largely Asia-based company either through a possible joint venture or initial public offering in Asia.
The company expects to secure one or more of these possible transactions by year-end.
Dole, based in Westlake Village, Calif., made the announcements as it reported a better-than-expected profit for its second quarter, although revenue fell short.
The company earned $64.1 million, or 74 cents per share, for the quarter that ended June 16, versus $81.8 million, or 94 cents per share, in the same quarter last year. On an adjusted basis, the company earned 80 cents per share from continuing operations versus $1.01 per share.
Dole's revenue for the period fell 10 percent to $1.72 billion.
Analysts polled by FactSet were expecting the company to earn 72 cents per share on revenue of $1.78 billion.
Dole's DeLorenzo said that, as expected, banana earnings were weaker primarily due to lower pricing in North America. The company's steps to restructure its operations in Europe partially offset the negative impact of a weaker euro.
Shares rose 72 cents, or more than 8 percent, to $9.55 in midday trading. Its shares have traded between $8.02 and $14.58 in the past 52 weeks.