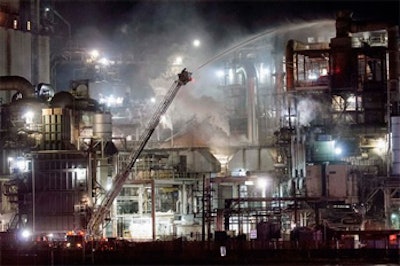 PEORIA, Ill. (AP) — Archer Daniels Midland shut down operations Wednesday at its corn processing plant in central Illinois after an early morning explosion damaged the facility.
A fire broke out after the explosion in the maintenance area of the Peoria plant at about 3 a.m. Wednesday, ADM spokeswoman Jackie Anderson said. Nobody was hurt, but fire officials say one person was taken to the hospital as a precaution.
"We have temporarily halted operations at the Peoria plant while we investigate the cause of the incident and the extent of the damage," Anderson said in a statement. "Following an initial investigation, we will determine how soon we can resume normal production at the plant. In the meantime, we will meet all customer deliveries from ADM's other corn processing facilities."
Firefighters called to ADM's ethanol distillery found an open gas line feeding the fire, Peoria Fire Department Battalion Chief Mike Morgan said. He estimated the damage at more than $1 million.
Morgan said the facility appeared to be lightly staffed because of the time of day, one possible reason that no one was injured.