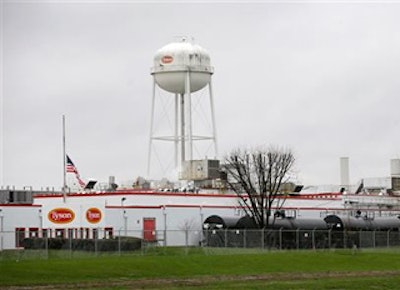 COLUMBUS JUNCTION, Iowa (AP) — The first Chin Burmese student arrived at Wilma Sime Roundy Elementary School three years ago, a smiling preschooler whose father often checked on his progress.
The school had long been accustomed to educating the children of the Mexicans, Hondurans and Salvadorans who came to work at the sprawling Tyson Foods pork processing plant that sits outside this town of 2,000. But then, principal Shane Rosenberg recalled, Tyson informed school leaders that a new group of workers was coming — the Chin, a largely Christian ethnic minority who were fleeing their homeland in western Myanmar to avoid persecution.
A trickle of Chin students turned into dozens. Frustrated educators struggled to communicate, often having to call the pastor of the Chin church to interpret. Rosenberg intervened to ease the way, using grant money to hire one of the Chin to translate to and from the Hakha language. And he invited Chin parents for a welcoming ceremony and tour of the school.
"It was an awe-inspiring moment, for them to see the opportunities their children were going to have by being here in school," he said.
All told, about 400 refugees have descended on the town, and more are arriving by the week to reunite with friends and relatives and work grueling jobs for Tyson. Like other waves of immigrants, they were drawn to this poor, sparsely populated region of southeastern Iowa by the promise of jobs, good schools and welcoming people.
And as was the case with other waves of immigrants, there have been bumps along the way.
"We've had a lot of experience with Hispanic cultures, but for all of us, the Burmese thing is new. There's no one around that is an expert in that area or knows the language or this and that. That whole transition has been interesting," said Mayor Dan Wilson, a businessman who grew up on a farm outside town. He said the influx has been more easily noticed in Columbus Junction than elsewhere: "It's more obvious in a small town when you've got 200 new people coming in. You're not going to blend in here. You're going to stick out."
But Columbus Junction is working it out, and has been transformed in many ways by these newcomers, who have brought an energy and optimism that longtime residents call remarkable.
A Chin grocery store has opened downtown, on a block dominated by Mexican businesses, selling huge bags of the rice that is a staple in their diet. Not long ago, its owner was living in the Malaysian jungle after fleeing Myanmar. The Iowa Chin Baptist Church holds Sunday services for more than 300 members at a Methodist church that agreed to share its space. A community college is adding a building to expand the availability of ESL classes, which are in high demand.
"In any small town, you're always looking at: what is the future of this town going to be? And having a large group of people with young children, saying 'we'd like to live here and open some businesses,' that's very reassuring," said city community development director Mallory Smith, who helped residents open the first Chin store and restaurant and rent space for a community garden. "We're a young, growing town, which is very nice."
Biak Thang, 28, left his job working 10-hour days at Tyson to work as the school interpreter, which he calls a "big, big, big job" even if he took a pay cut.
"I feel that this is a good privilege that I get. I have a chance to help the kids and the parents in a time of need," he said.
He fled Myanmar to Malaysia in 2005 to avoid religious persecution and military rule that prevented gathering after 9 p.m. After being accepted to resettle in the United States, he left for North Carolina in 2008, where he worked at a furniture factory. He was reunited there with his wife, who had been jailed for six months after illegally entering Thailand.
"When I got here, I felt relief. Everything is new for me. It's a new beginning of life," Thang says.
The couple moved to Columbus Junction in 2011 and are raising two children. Thang looks forward to becoming a U.S. citizen: "It's a freedom country. I can be whatever I want."
Tyson and other meatpacking companies have increasingly recruited non-Latino workers in recent years, including Burmese, Sudanese and others, said Mark Grey, director of the Iowa Center for Immigrant Leadership and Integration at University of Northern Iowa. Since a 2008 raid of a Postville, Iowa, slaughterhouse, where 389 immigrants were arrested, companies have become more careful to avoid hiring employees who may have entered the country illegally, he said.
Refugees are in the country legally and may apply for citizenship within five years.
Tyson spokesman Gary Mickelson denied the company was favoring refugees over others, saying the industry has long attracted immigrants for entry-level jobs that do not require experience or English skills. The makeup of its workforce shifts as new immigrant groups come to the U.S., he said.
But in town, both the Chin and Spanish-speaking communities feel that more Chin are being hired at the expense of Latinos, which has caused some friction, said Cristina Ortiz, a doctoral student in anthropology who moved to Columbus Junction four years ago to study the town.
"Latinos and Chin people recognize they both have the same goals in life," she says. "That is to make their lives better and provide for their families and live a tranquil life. But in a certain sense, they are in competition with each other. They are applying for the same jobs. They have the same skills. And that's tricky. Obviously there is some tension there."
At a recent conference at the University of Iowa, Rick Rustad, a workplace chaplain at the Tyson plant in Waterloo, about 100 miles away, recalled serving as the plant's "mobile recruit" for Burmese refugees. He drove a passenger bus to meet with Burmese who had settled in different parts of Illinois, where he offered jobs and brought 30 back to Iowa at a time.
They lived in the Days Inn for a week while Tyson employees helped them find housing, get identification cards and open bank accounts. By the weekend, they'd move into their apartments and report to work Monday.
The refugees needed a paycheck — and fast. Cuts in federal benefits for refugees mean there is little safety net in the way of food, medical or housing assistance. Tyson pays workers at least $13 per hour and provides health insurance.
"They can make more in one week at Tyson Fresh Meats than they would make in one year back home," Rustad said.
In Columbus Junction, Mickelson said, the first five Burmese workers were hired as part of a recruitment effort in Illinois and later encouraged friends and relatives to apply. Burmese started arriving from Indiana, Texas, Florida and other states where they say jobs were harder to come by.
"The Tyson company is very good. That's why we are here," said Ngun Za Bik, 33, who borrowed from a friend to open the Chin grocery store in a vacant pizza place two years ago.
Bik arrived in Indianapolis in 2008 after living in the Malaysian jungle for 14 years. He struggled to make a living, working part-time at a warehouse. He relocated to Columbus Junction, where his brother was already working at Tyson, to open the store.
He sells on credit, keeping notebooks showing how much customers owe him. They pay when they get their Tyson paychecks on Fridays or Saturdays.
City officials say some of the first arrivals abused alcohol, which had previously not been as cheap or available to them. Public urination and intoxication and drunken driving were common. But the police chief and other officials warned community leaders about their expectations, and as more women and children arrived, the problems have dissipated.
Two refugees have committed suicide and a third was found drowned in a river near the Tyson plant, said police Chief Donnie Orr. A shortage of mental health and substance abuse treatment is a problem, Ortiz said.
But refugees and city leaders agree the biggest challenge now is finding housing for the newcomers. City officials say there are hardly any available rental apartments, which go for about $450 a month for three bedrooms.
Some extended families cram into small, unclean apartments and live a "barracks-style lifestyle," said city attorney Tim Wink, who owns three downtown buildings and rents apartments to two Chin families. The city is worried about safety and sanitation issues, including fire risks, and is drawing up its first-ever rental housing code.
Wink said the newcomers were "not a whole lot different" than their Hispanic and Latino predecessors.
"They want the drain to work. They want the water to work," he said. "They don't want bugs. They have the same concerns that everybody else has. It's not much different. They have a language issue, and that's going to take some time."
They've had some success. The community recently celebrated the swearing in of its first U.S. citizen. One or two families have been able to buy houses. And this month, three Chin students are expected to become the first to graduate from high school.
Tial Nawn, 27, arrived in Columbus Junction in July 2012 from a refugee camp in Malaysia to rejoin her husband, a pastor who leads the Iowa Chin Baptist Church. On a recent evening, Nawn joined others in a high school classroom for ESL class, where they practiced verbs and sentences.
"Students!" Nawn called out, when the teacher asked the class to finish a sentence: "We are ..."
Nawn said she hopes to learn English in the next year so she can work and make more friends. She is already planning to move to Iowa City, 40 miles away, where she hopes to buy a house, have children and find a job.
"Everybody is so nice here," she said. "But the only work is at Tyson."