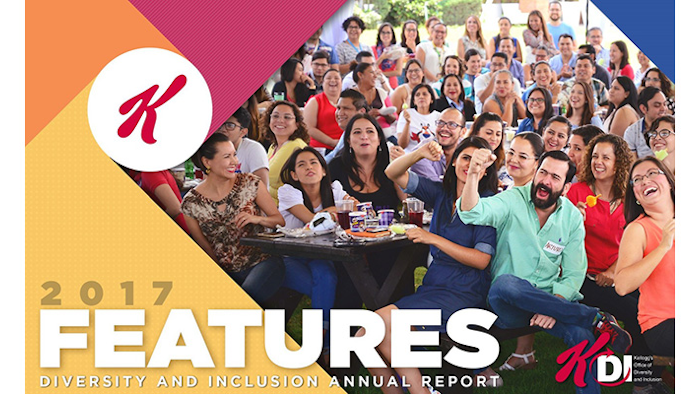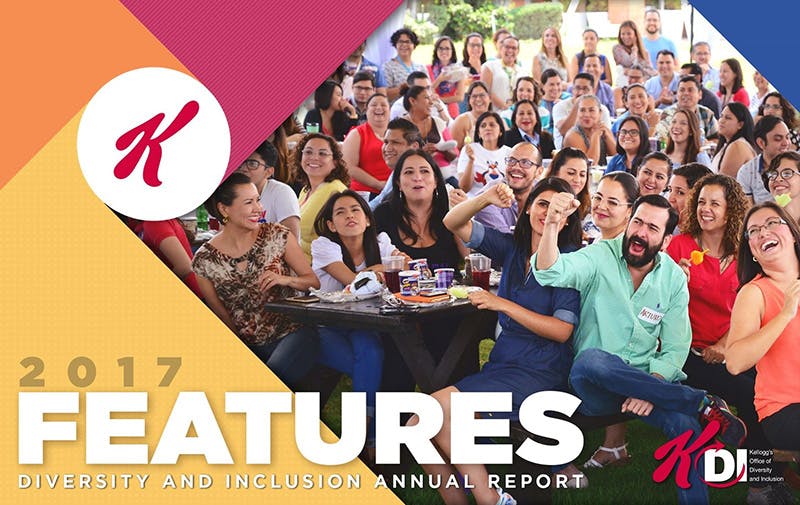 BATTLE CREEK, Mich., Dec. 13, 2017 (PRNewswire) — Kellogg Company announces the launch of its eighth annual Diversity and Inclusion Report titled, Features. The report provides an overview of diversity and inclusion at the company. These efforts help Kellogg maintain a competitive business advantage, encourage collaboration, enhance the organization and create a supportive and welcoming work environment. This is essential to helping Kellogg maintain a vibrant culture of inclusion, consistent with its core values.
The complete report is available online at: www.KelloggDiversityandInclusion.com
Kellogg is more than a business. It is a company with heart and soul, driven by a diverse and inclusive community of passionate people making a difference.  The Features report includes many employee stories from around the globe, showcasing Kellogg's diverse array of eight business/employee resource groups, organizations pivotal to Kellogg's efforts to advance Diversity and Inclusion in the workplace, marketplace and communities it serves.
"These stories celebrate the progress we've made, as individuals and as a company," said Mark King, Global Head, Diversity and Inclusion. "Our continued efforts toward being a more inclusive and diverse company will enable us to create even more innovative foods that enrich and delight the world, and ultimately, deliver on our growth plan objectives for sustainable growth."
About Kellogg Company
At Kellogg Company (NYSE: K), we strive to make foods people love. This includes our beloved brands – Kellogg's®, Keebler®, Special K®, Pringles®, Kellogg's Frosted Flakes®, Pop-Tarts®, Kellogg's Corn Flakes®, Rice Krispies®, Cheez-It®, Eggo®, Mini-Wheats® and more – that nourish families so they can flourish and thrive. With 2016 sales of $13 billion and more than 1,600 foods, Kellogg is the world's leading cereal company; second largest producer of crackers and savory snacks; and a leading North American frozen foods company. And we're a company with a heart and soul, committing to help create 3 billion Better Days by 2025 through our Breakfasts for Better Days global purpose platform. To learn more, visit www.KelloggCompany.com or www.OpenforBreakfast.com and follow us on Twitter @KelloggCompany, YouTube and on our Social K corporate blog.