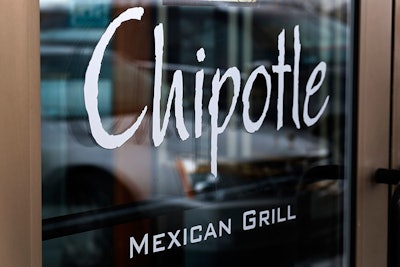 NEW YORK (AP) — Despite the high-profile debut of its queso cheese dip, Chipotle is still struggling to turn its business around after a series of food safety scares. The burrito chain reported disappointing third-quarter results on Tuesday and its stock plummeted more than 9 percent in after-hours trading.
"It has been a challenging year," said CEO Steve Ells, "and the third quarter was no exception."
Chipotle has been working to convince customers that its food is safe since 2015, when its sales plunged after an E. coli outbreak. It has made some progress, but concerns rose again this summer after one of its restaurants in Virginia was temporarily closed after dozens of diners fell ill.
The company said Tuesday that sales rose 1 percent at its established restaurants in the quarter, slightly below the 1.1 percent increase Wall Street analysts expected, according to FactSet.
"It is clear that Chipotle has still not made up all of the ground it lost," said Neil Saunders, a retail analyst at GlobalData.
The company said Tuesday that it will make a series of changes to try and win back customers. It will continue to develop new menu items, including frozen margaritas and salads; retrain workers to better serve customers; and slow the number of new stores it opens next year to better focus on already opened restaurants.
TV and online ads for its new warm queso dip helped boost sales among existing customers, and brought in some new diners, but sales leveled off shortly after, the Denver-based company said. It launched queso nationwide in September with the hopes that the dip would reinvigorate sales.
Overall, Chipotle reported net income of $19.6 million, or 69 cents per share, in the three months ending Sept. 30. That's up from $7.8 million, or 27 cents per share, in the same quarter a year ago. It said that included effects from a data breach earlier this year on its restaurant's payment system.
Adjusted earnings came to $1.33 per share, far below the $1.56 per share analysts expected, according to Zacks Investment Research.
The Denver-based company said revenue rose 9 percent to $1.13 billion, matching what analysts expected.
Shares of Chipotle Mexican Grill Inc., which are down 14 percent so far this year, fell $30.67 to $293.63 after the stock market closed Tuesday.