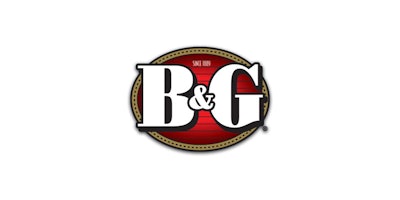 PARSIPPANY, N.J. (BUSINESS WIRE) — B&G Foods, Inc. announced Sunday that it has entered into a definitive agreement to acquire Back to Nature Foods Company, LLC, a leader in the better-for-you snack foods category, from Brynwood Partners VI L.P., Mondelēz International and certain other entities and individuals for approximately $162.5 million in cash, subject to customary closing and post-closing working capital adjustments. B&G Foods expects the acquisition to close during the third quarter of 2017, subject to customary closing conditions, including the receipt of regulatory approvals.
"We are very pleased to add Back to Nature to the B&G Foods family of brands. Consistent with our acquisition strategy and our recent Green Giant, spices & seasonings and Victoria acquisitions, we are continuing to diversify our portfolio of brands and invest in brands and products that we believe are most relevant to today's consumer," stated Robert C. Cantwell, President and Chief Executive Officer of B&G Foods.
Back to Nature Foods has been a pioneer in the better-for-you snack foods category, and its namesake brand is a leading cookie and cracker brand in the category. The Back to Nature brand's product offerings include Non-GMO Project Verified, organic and gluten free products. Back to Nature Foods also offers the SnackWell's brand of low-fat and no-fat snacks.
B&G Foods intends to fund the acquisition and related fees and expenses with additional revolving loans under its existing credit facility.
About Back to Nature Foods Company, LLC
Back to Nature Foods' mission has been to provide everyday foods that are simply delicious, simply good. The Back to Nature brand is committed to creating delicious and flavorful recipes using ingredients inspired by nature by carefully selecting ingredients to create great-tasting, affordable products that everyone can enjoy. Back to Nature products represent a wide range of categories, including cookies, crackers, nuts and trail mixes, granola, juices, soups and cereals. For more information, please visit www.backtonaturefoods.com.
About B&G Foods, Inc.
B&G Foods and its subsidiaries manufacture, sell and distribute a diversified portfolio of high-quality, branded shelf-stable and frozen foods across the United States, Canada and Puerto Rico. Based in Parsippany, New Jersey, B&G Foods' products are marketed under many recognized brands, including Ac'cent, B&G, B&M, Baker's Joy, Bear Creek Country Kitchens, Brer Rabbit, Canoleo, Cary's, Cream of Rice, Cream of Wheat, Devonsheer, Don Pepino, Durkee, Emeril's, Grandma's Molasses, Green Giant, JJ Flats, Joan of Arc, Las Palmas, Le Sueur, MacDonald's, Mama Mary's, Maple Grove Farms, Molly McButter, Mrs. Dash, New York Flatbreads, New York Style, Old London, Original Tings, Ortega, Pirate's Booty, Polaner, Red Devil, Regina, Sa-són, Sclafani, Smart Puffs, Spice Islands, Spring Tree, Sugar Twin, Tone's, Trappey's, TrueNorth, Underwood, Vermont Maid, Victoria, Weber and Wright's. B&G Foods also sells and distributes Static Guard, a household product brand. For more information, please visit www.bgfoods.com.