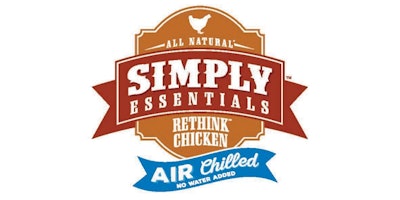 WASHINGTON, Aug. 7, 2017 (PRNewswire-USNewswire) — Simply Essentials has earned humane certification for the treatment of its chickens from American Humane, the country's first national humane organization and the largest certifier of animal welfare in the world.
In order to qualify as an American Humane Certified™ producer, Simply Essentials had to meet the program's rigorous standards, which include meeting some 200 science-based standards covering everything from adequate space to proper temperature, air quality and much more. In addition, they voluntarily agreed to undergo rigorous, yearly audits by professional auditors to ensure the standards are being implemented.
"Consumers are rightly demanding that the food on their plates is raised in line with their values," said Dr. Robin Ganzert, president and CEO of American Humane. "By becoming an American Humane Certified producer, Simply Essentials helps assure their customers that the food on their plates was raised humanely under the science- and evidence-based protections established by American Humane. We applaud them for their extraordinary commitment to good animal welfare."
"We are thrilled to have earned the American Humane Certification," said Dennis Krause, CEO of Simply Essentials. "Today's consumers are increasing their demand for great tasting proteins that are healthy, produced with an emphasis on increase environmental sustainability and, importantly, raised in a humane system. Simply Essentials was founded on providing consumers with authenticity and integrity they can rely on. We are proud to have our chicken products display the American Humane Certified seal."
The American Humane Certified program is the nation's first and largest farm animal welfare certification and audit program, developed by the organization to advance protections for farm animals and ensure they are raised and handled humanely. Independent, third-party audits cover more than 200 species-specific criteria which are rooted in the internationally accepted Five Freedoms of animal welfare. These science-based standards are set and regularly reviewed by an independent Scientific Advisory Committee of the nation's top animal experts, animal behaviorists, veterinarians and animal advocates, including luminaries such as farm animal welfare pioneer Dr. Temple Grandin and Dr. Joy Mench.
For a full list of American Humane Certified producers and more information about the program and other American Humane initiatives, visit www.AmericanHumane.org.
For more information about Simply Essentials, please visit www.simply-essentials.com.
About American Humane
American Humane is the country's first national humane organization, founded in 1877. For more information, visit www.americanhumane.org.
About Simply Essentials
Simply Essentials is an innovative protein company that offers great tasting beef and chicken products with measurable increases in Omega-3 fatty acid levels and decreases in cholesterol levels, achieved through its proprietary flaxseed feed technology. Simply Essentials is headquartered in Overland Park, Kan., with 350 employees committed to bringing health-conscious consumers great tasting protein.