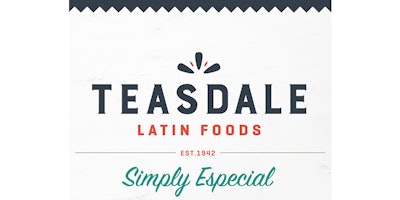 DALLAS, July 12, 2017 (PRNewswire) — Teasdale Latin Foods, a leading national provider of private label and branded Hispanic foods to the retail, food service and wholesale channels and majority owned by private equity firm Snow Phipps Group, on Wednesday announced that it has acquired Rudy's Tortillas, a leading, independent provider of high quality tortillas and chips into the foodservice channel. Founded in 1945 and based in Carrollton, Texas, Rudy's has successfully grown by partnering with foodservice businesses to drive innovation and product quality across their bakery offerings. The terms of the acquisition were not disclosed.
The transaction advances Snow Phipps' strategy of building a comprehensive Hispanic foods platform diversified across product, customer, channel and geographic exposure, and further enhances Teasdale's national footprint in the Hispanic foods category, specifically within the attractive bakery and foodservice channel. With the acquisition of Rudy's, Teasdale Latin Foods is able to provide an entire suite of private label and branded Hispanic food products to a diverse customer base across a variety of channels including retail, foodservice, wholesale, industrial and international. Rudy's will continue to operate as a division of Teasdale Latin Foods with the existing management team continuing on with the business.
"Consumers love Mexican foods and the tortilla is often at the center of the meals they enjoy," says Chris Kiser, CEO of Teasdale. "Since 1945, Rudy's has built its reputation on authenticity, and we are thrilled to welcome Rudy's and its employees to our growing family of fine Mexican and Latino inspired foods."
"We are pleased to have executed on a number of Teasdale's unique growth opportunities and are excited by our future growth prospects across an array of attractive food categories," said Peter Shea, Chairman of Teasdale and Operating Partner at Snow Phipps. "Rudy's deepens our Hispanic bakery product offering and allows us to drive further growth across the foodservice channel, providing the Company access to larger adjacent markets across an even broader consumer base. Teasdale is primed for continued growth as consumers increasingly focus on convenience, Hispanic meals and natural and organic products, both in and out of the home, and retailers focus on increasing the presence of their private label product offerings."
Added Sundip Murthy, Partner and head of consumer investing at Snow Phipps, "We are pleased that we and our colleagues at Teasdale have been able to complete a number of highly complementary acquisitions. The Rudy's acquisition provides additional scale and stability to our growing Hispanic food business while simultaneously balancing our product offering and diversifying our customer and channel base by adding an exciting new foodservice component to our tortilla business. We are proud of the unique consolidation platform that we, together with the Teasdale management team, have successfully built and look forward to driving further growth across our diversified products, customers and channels."
Rudy's is the fourth follow-on acquisition that Snow Phipps has completed in partnership with the Teasdale management team since Teasdale was acquired in October 2014. In October 2015, Teasdale acquired Jardine's Foods, a producer of natural and organic sauces including salsas, dips, quesos, BBQ and hot sauces. In December 2015, Teasdale acquired Casa Fiesta, a provider of authentic Mexican foods in the beans, peppers, sauces, taco shells, dinner kits and seasonings categories. In June 2016, Teasdale acquired Mesa Foods, a producer of tortillas, taco shells, flatbreads and chips into the retail channel.
About Teasdale Latin Foods
Teasdale Latin Foods is a leading provider of private label and branded beans, hominy, tortillas, taco shells, flatbreads, peppers, sauces and seasoning products to the retail, foodservice, wholesale, industrial and international channels. The Company sells kidney, pinto, black, chili, garbanzo, great northern and other beans to its customers in brine, bulk, sauces, and refried varieties, in dry packed canned, bags, and pouches in both conventional and organic varieties, as well as hominy, tortillas, taco shells, flatbreads, salsa, sauces, peppers and seasoning products. Brands include Teasdale®, Casa Fiesta®, Viva Mexico®, Mexene®, D.L. Jardine's®, 7J® and Sontava! ®. Teasdale services all channels of distribution nationally and operates facilities in Atwater (CA), Hoopeston (IL), Greeley (CO), Buda (TX), Louisville (KY), Carrollton (TX) and a corporate office in Dallas (TX). For more information, visit www.teasdalelatinfoods.com.
About Rudy's Tortillas
Rudy's Tortillas, based in Carrollton, Texas, is a leading manufacturer of flour and corn tortillas and pre-cut uncooked tortilla chips serving a long standing customer base across the food service channel. For more information, visit http://www.rudystortillas.com/.
About Snow Phipps Group
Snow Phipps is a private equity firm focused on middle-market control investments. Snow Phipps targets platform companies with enterprise values ranging from $100 million to $500 million. The firm utilizes an operating partner model to invest across the industrials, services and consumer industries and seeks value creation through an operationally focused strategy. In the consumer sector, Snow Phipps is currently invested in a number of businesses including FeraDyne Outdoors, Teasdale Foods, Laureate Education and ECRM. To learn more about Snow Phipps, visit www.snowphipps.com.