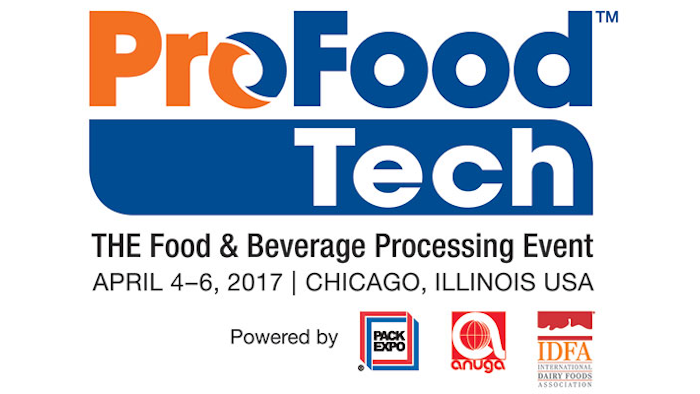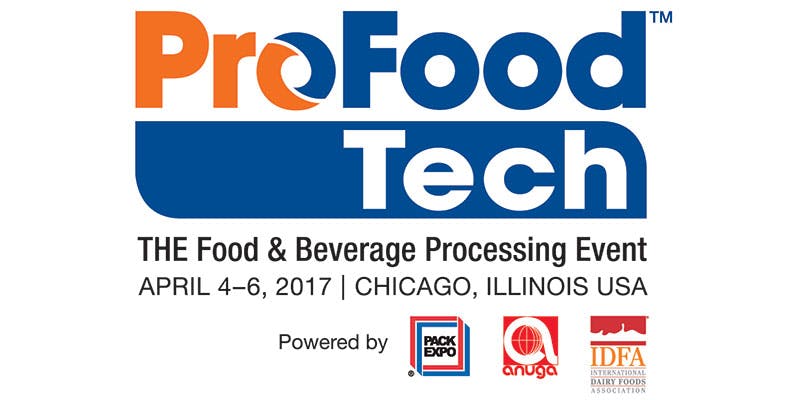 This spring, ProFood Tech (April 4–6, 2017; McCormick Place, Chicago) will make its debut as the only event in North America focused exclusively on all food and beverage sectors. The show will offer a full range of food and beverage processing solutions in baking and snack, beverage, frozen/prepared foods, dairy and meat/poultry/seafood.
ProFood Tech is geared toward both large companies that serve several market segments and smaller niche companies that focus on more specific needs. By highlighting best practices for food and beverage processing, regulatory changes, workforce development strategies and changing consumer trends, ProFood Tech will bring the latest innovations and technologies to the processing industry.
Powered by three of the world's trade show leaders — PACK EXPO, Anuga and the International Dairy Foods Association (IDFA) — ProFood Tech will include 6,000 processing professionals, more than 400 of the world's top suppliers, 150,000 net square feet of exhibit floor and 45 hours of educational programming.
To help food brand owners, processors, and manufacturers discover the solutions and insight they need, ProFood Tech includes:
The Dairy Pavilion presented by IDFA, replaces IDFA's International Dairy Show. Now, dairy producers will be able to connect with key industry suppliers, see the latest technologies in action and discover industry trends in dairy, as well as benefit from exposure to crossover technologies — all under one roof.
The ProFood Tech Conference Program targets food and beverage manufacturers seeking to learn more about consumer and flavor trends, regulations and best practices for food processing and engineering, and business and workforce development strategies. The conference program includes ground-breaking research and high-level perspectives from experts who are on the pulse of the industry.
The Innovation Stage brings free education to the show floor that is aimed at informing and inspiring attendees. The Innovation Stage includes free, 30-minute seminars throughout the day, presentations by food and beverage processing industry leaders, coverage of breakthrough technologies, innovative applications and proven techniques, and comfortable seating in a setting that is part lounge, part classroom.
Additionally, as part of the ProFood Tech Learning Hub, ProFood Tech will feature Regulatory Matters where expert speakers will present on key issues such as the Food Safety Modernization Act (FSMA), recall avoidance, CGMPs, conducting internal audits, traceability, documentation, food safety management, sanitary plant/equipment design and much more. These complimentary 30-minute sessions will present an opportunity to discuss these key regulatory challenges with experts and peers following each session.
Here is a look at some of the products and innovations attendees can expect to see at the show:
Vibra Flex II Offers Simplicity, Safety and Improved Sanitation
Meyer Industries, Inc. will showcase its second-generation vibratory conveyor, the Vibra Flex II, at ProFood Tech. This conveyor can be used for multipurpose applications while also ensuring increased safety, reduced maintenance and improved sanitation. With a number of sizes and discharge options, these machines include simple drives and installation, vibration isolators and require no heavy structural support. (Booth #2443)
Waste Water Treatment Minimizes Pollution and Costs
ADI Systems will showcase its innovative wastewater treatment and waste-to-energy solutions at ProFood Tech. These technologies allow food and beverage processors to minimize pollution while maximizing cost savings. As the trend toward sustainability continues to increase, the anaerobic and aerobic technologies provide a reliable way to treat wastewater and help food, beverage and dairy plants comply with strict environmental regulations and reduce or eliminate wastewater surcharges. Using ADI's system, biogas produced by anaerobic digestion can be used to create renewable energy. ADI Systems' wastewater treatment provides a customizable treatment process for food and beverage processors worldwide. (Booth #2748)
Electronic Pressure Compensation Offers Highly Accurate Sensor Technology
Coperion K-Tron's Electronic Pressure Compensation (EPC) is a highly accurate pressure sensor mounted on the hopper lid of a feeder. The sealed pressure sensor, although very sensitive, has a large overload safety margin and uses a USB adapter to record pressure data. Advantages of the new system include improved accuracy and reliability as well as lower initial cost and easier installation compared to traditional mechanical pressure compensation systems. For customers seeking solutions for pressure problems on the line, the K-Tron is available for purchase or loan for a short term. The kits contain a USB pressure sensor and data collection software for companies looking to use IoT technology in order to maximum efficiency on their product lines. (Booth #2130)
Model NCO Brewing and Beverage Filter Meets USDA Standards
Rosedale Product Inc. will showcase its latest technology, the model NCO brewing and beverage filter at ProFood Tech. The filter is a cost-effective and high-quality housing option that provides a large dirt-holding capacity for trapping contaminants. The design offers smooth surfaces, side and bottom outlets, and the utilization of a variety of filter bags and cartridges. Rosedale sanitary service filters conform to the latest United States Department of Agriculture (USDA) dairy standards and applications include beverage, vegetable oils, foods and pharmaceuticals. (Booth #1944)
Compact, Cold Glue Labelers Delivers Output at 120 BPM and Reduces Maintenance Costs
LANGGUTH will display the compact version of the wetLAN 110 inline cold glue labeler at ProFood Tech. The wetLAN 110 labeler delivers output at 120 beats per minute (bpm), combining simplicity, easy changeover and affordability. LANGGUTH positions the inline cold glue labeler as one that outperforms other labelers in terms of flexibility, running multi-size round containers. With the wetland, end users can avoid buying a rotary labeler, which can cost twice as much, and gain maintenance savings because the inline wetLAN uses fewer parts than competitive labelers. (Booth #2337)
Self-Contained Low Rate Vacuum Conveying Systems Offer Low Air Consumption
VAC-U-MAX will showcase a full range of self-contained vacuum conveying systems for granules and free-flowing powders. This new vacuum conveying system offers low air consumption, removable filter media and an automatic filter cleaning. Its single venture air-operated power unit includes easily removable parts for an efficient filter media and pulse-jet filter cleaning. Geared toward low-rate conveying applications for packaging and processing lines, the systems are available in standard food and pharmaceutical-grade systems. (Booth #1132)