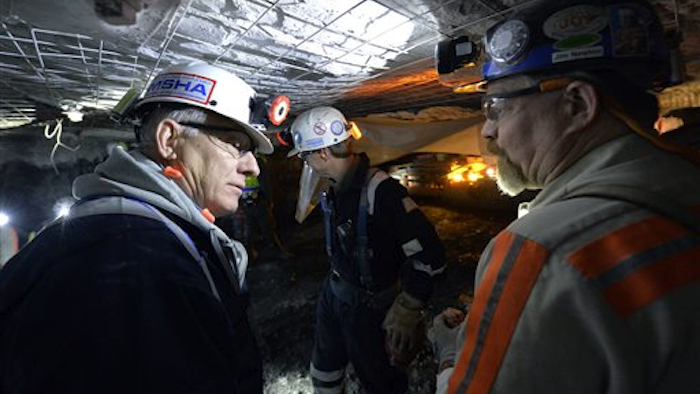 Joe Main, left, Assistant Secretary of Labor for Mine Safety and Health, speaks with Jim Newton, a worker at the Gibson North mine, Tuesday, Jan. 13, 2015, in Princeton, Ind. Main was being shown a new proximity sensor that will increase the safety of workers around automated mining machinery. (AP Photo/Timothy D. Easley)
CARBONDALE, Ill. — Two Illinois colleges are planning to build a simulator that will allow coal miners to train how to react in emergencies without having to set foot in a mine.
The simulator that Southeastern Illinois College and Illinois Eastern Community College plan to build will have features such as an imitation-smoke system and a control center where coordinators can monitor how the miners cope with disaster-like conditions, the (Carbondale) Southern Illinoisan reported.
"The emphasis with (federal regulators— is for miners to understand what they're supposed to be doing in case of emergency, and this will allow them to set up the actual situation without being in harm's way," said Mike Thomas, dean of workforce education at IECC.
The schools will build the facility on SIC's Harrisburg campus thanks to at least $380,000 in grants provided by the Department of Commerce and Economic Activity.
In the 120-foot by 80-foot facility, which will have gravel floors and dark metal walls to make it look and feel more like a coal mine, the controllers will be able to fill spaces with fake smoke so that miners can learn to operate under disaster-like conditions.
The two schools already train about 1,000 miners a year but the new facility will allow a more hands-on experience, according to Thomas. Thomas also said that Red Lake College has a simulation facility but the new facility will include high-tech features unlike anything else in the state.
Thomas said construction will begin soon.
One mining official said he'd seen the plans for the facility and he was impressed.
"It's going to give (miners) more, different aspects of training, said Bill Jankowsky, director of health and safety for Knight Hawk Coal. "Illinois probably has one of the best safety records of any of the states, but you always want to prepare for the worst."