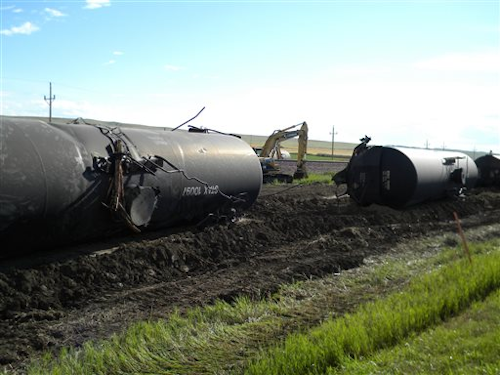 BILLINGS, Mont. (AP) — A train that derailed and spilled 35,000 gallons of oil in northeastern Montana was traveling within recommended speed limits, federal officials said Monday as they continued to probe the accident's cause.
The Burlington Northern Santa Fe Railway train loaded with crude from North Dakota was traveling 44 miles per hour before Thursday's wreck, U.S. Federal Railroad Administration spokesman Matthew Lehner said.
Officials have said the maximum authorized speed in the area is 45 mph.
Twenty-two cars on the BNSF train derailed near the small town of Culbertson.
BNSF spokesman Matt Jones says the stretch of track where the derailment occurred is inspected at least four times a week. Jones did not immediately respond to a request for details on the latest inspection.
The accident triggered a temporary evacuation of nearby homes and a camp for oil-field workers.
No one was hurt and no fire or explosion occurred, but oil leaked from four of the cars. Officials said the spill was quickly contained and there was no immediate evidence that any crude reached a waterway.
The spill marked the latest in a series of wrecks across the U.S. and Canada that have highlighted the safety risks of moving crude by rail.
In recent years, trains hauling crude from the Bakken region of North Dakota and Montana have been involved in fiery derailments in six states. In 2013, a runaway train hauling crude from the Bakken derailed and exploded in Lac-Megantic, Quebec, incinerating much of its downtown and killing 47 people.
Cleanup work along the Burlington Northern Santa Fe Railway line continued Monday, state officials said.
BNSF workers were sampling underground water supplies in the vicinity of the crash as a precaution, said Kristi Ponozzo with the Montana Department of Environmental Quality.
Speed restrictions were lifted Monday on nearby U.S. Highway 2, the region's main artery.