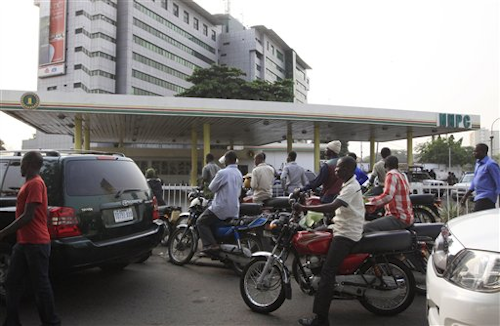 LAGOS, Nig
eria (AP) — Nigeria's outgoing government has agreed to pay a debt of $800 million to resolve a months-long fuel crisis crippling the economy days before the inauguration of a new president in the country, oil suppliers said Wednesday.
Chaos reigned Tuesday at Nigerian airports where most flights were canceled. Foreign airlines flew to other African countries to refuel. Cars and other vehicles formed queues of more than 2 kilometers (a mile) outside of gas stations and attendants turned away people wanting to buy kerosene for cooking because there was none.
Banks started closing at lunchtime on Monday and cell phone companies warned they would be forced to shut down service countrywide for lack of diesel to fuel generators.
Nigeria — Africa's biggest oil producer— generates more than 2 million barrels of petroleum a day but imports the refined product because its refineries are not maintained. A woeful national grid that offers only a few hours of electricity on a good day failed to generate any electricity recently because of shortages of thermal gas to fire its generators. That leaves all businesses and homes that can afford it dependent on diesel-powered generators. The country frequently suffers fuel shortages, but the disruption caused by the latest is unprecedented.
The Independent Petroleum Marketers Association of Nigeria said the finance minister agreed Monday to pay them $800 million. It said companies started distributing oil Tuesday and unpaid tanker drivers stopped striking.
There was no immediate statement from the finance minister, who accused the suppliers of holding Nigeria to ransom over the disputed debt, bemoaning "so much fraud allegations and scams in this business of oil marketing."
Nigeria's government, hit by halved prices for the petroleum that provides 80 percent of its revenue and a massive slump in its naira currency, has been borrowing to pay salaries.
Suppliers, hit by tightened credit lines and naira repayments to pay dollar debts, worried they would not be paid by the incoming government of Muhammadu Buhari, who has pledged to fight endemic corruption.
Buhari's party accused the outgoing government of President Goodluck Jonathan of sabotage to ensure it inherits "a nation in crisis."