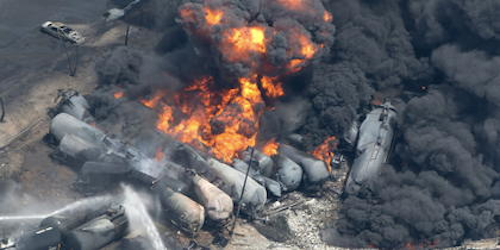 PORTLAND, Maine (AP) — The compensation fund for victims of a fiery oil train derailment that claimed 47 lives in a small town in Quebec has grown to $345 million with a contribution from the company that owned the shipment.
Officials say World Fuel Services Corp. agreed to contribute $110 million.
Much of downtown Lac Megantic was destroyed after the unattended Montreal, Maine & Atlantic train with 72 oil tankers derailed July 6, 2013, in Canada.
U.S. bankruptcy trustee Robert Keach and his Canadian counterpart said Monday that the settlement "is the product of months of difficult and complex negotiations among numerous stakeholders."
Keach says the only party with potential liability that has declined to participate in the settlement fund is Canadian Pacific Railroad, which transported the oil to Montreal.