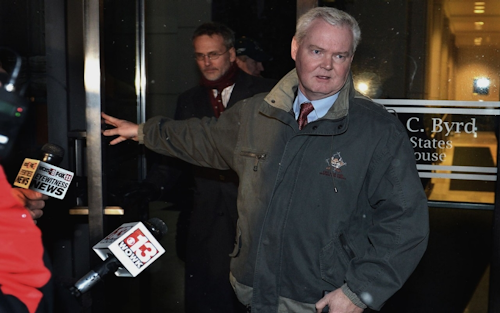 CHARLESTON, W.Va. (AP) — Two last executives are expected to plead guilty this week to charges in a massive chemical spill, and statements by one of them are fueling the lawsuit against the chemical's producer and the company whose water supply for 300,000 West Virginians was sullied by the spilled substance.
To bolster arguments against Eastman Chemical and West Virginia American Water, attorneys for businesses and residents affected by the spill are pointing to the deposition of former Freedom Industries executive Dennis Farrell.
Many businesses were temporarily shut down without clean water after the January 2014 leak from a Freedom tank in Charleston. The spill spurred a tap-water ban across nine counties for four to 10 days, and hundreds of people went to emergency rooms complaining of symptoms that could be spill-related, ranging from nausea to dizziness. Many claimed illnesses even after their water was deemed safe again.
Farrell's deposition said Eastman never notified him that the main spilled chemical, crude MCHM, would corrode carbon steel tanks, like the old rusty one at Freedom that leaked into the Elk River. However, a unit of Eastman warned about the risk in its restricted files.
An Eastman official agreed in a deposition that the company should have communicated the chemical's storage requirements to purchasers, according to a legal brief.
Eastman disputes the argument about corrosion, and says its material safety data sheet at the time complied with regulations. Eastman submitted an updated safety sheet in compliance with a federal standard that took effect June 1.
"Eastman believes that Crude MCHM did not cause the corrosion in the Freedom Industries' tank and that the lawsuit has no merit as it pertains to Eastman," Eastman spokeswoman Maranda Demuth said via email.
Farrell also said he told the water company to turn its pump off before the plume of chemicals hit its treatment plant downstream, but the company replied that it was confident their filters could handle the substance.
"And I suggested that (the West Virginia American Water official) turn the plant off," Farrell said in his deposition. "And he said that they were confident their filters could handle it, for me not to worry about them, to worry about myself and, you know, good luck dealing with the issues for having a spill."
Those comments are among the points being used to contend two main arguments: that Eastman didn't properly warn the public about the chemical's properties or possible health impacts; and that West Virginia American Water could have made decisions to avert a large-scale chemical contamination, including infrastructure investment choices that date back decades.
The case is headed to Charleston federal court Sept. 25, where plaintiffs will argue to certify a class of hundreds of thousands of people affected by water woes who can potentially recover damages. Kevin Thompson, an attorney for the plaintiffs, said a claims process could resemble the outcome of the BP oil spill, if the case succeeds. Thompson thinks a trial could occur by mid-2016, if the case reaches that point.
Farrell and former Freedom President Gary Southern both initially pleaded not guilty to criminal charges in the spill, and are expected to reverse those pleas on Tuesday and Wednesday. Four executives and the company itself already took guilty pleas and will be sentenced in December. Claims against now-bankrupt Freedom are being dealt with in U.S. Bankruptcy Court.
Attorneys for West Virginia American Water say the plaintiffs are cherry-picking Farrell's comments. They say that in the deposition, Farrell refused to reply to Eastman and water company lawyers more than 60 times, gave an account inconsistent with what Freedom previously reported and walked back the wording of his statement.
"Farrell's unconfirmed testimony, newly revealed at his deposition, has no bearing on the class certification issues before the Court, and the Court should disregard it as both unnecessary and unreliable," the water company's attorney wrote in a legal brief.
Plaintiffs also contend that the water company described plans in 1969 to build a second water intake that could have been a backup in the case of contamination. The company built much of the piping, but did not follow through on the project, legal briefs say.
The water company says the single-intake project was constructed with state health officials' approval, and nothing required two intakes. The company also has stated that shutting down its one intake on the day of the spill could have resulted in no water for fighting fires or sanitation, and getting the system running again could've taken at least a month.