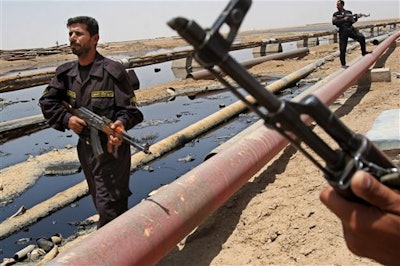 The price of oil was steady Tuesday as investors monitored the insurgency roiling Iraq for any signs it could affect its oil production and exports.
Islamic militants have been steadily expanding their grip on the country's north, where they control a broad swath of territory. But the bulk of the country's production and export operations are in the south, which have so far been spared in this month's advance by the al-Qaeda-inspired group. Iraq's daily oil production hit 3.5 million barrels this year, up from nearly 2.4 million a day in 2009.
Benchmark U.S. crude for August delivery dropped 2 cents to $106.15 per barrel on the New York Mercantile Exchange. The contract dropped 66 cents on Monday. Brent crude, used to price international oils, fell 2 cents to $113.70 a barrel in London.
The head of OPEC, the group of major oil exporters, on Tuesday said the recent rise in crude oil prices is to blame on market fears and speculation, rather than any drop in output from Iraq.
Secretary General Abdullah Al-Badry said Iraq is "still producing as normal," with 95 percent of its capacity in the country's south being unaffected by the violence.
In other energy futures trading on the Nymex:
— Wholesale gasoline rose 0.89cents to $3.12 a gallon.
— Natural gas rose 3.4 cent to $4.48 per 1,000 cubic feet.
— Heating oil rose 0.7 cents to $3.039 a gallon.