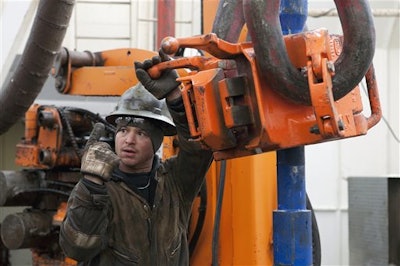 BISMARCK, N.D. (AP) — Well-paying jobs in western North Dakota's oil-producing counties helped propel the state's average annual pay by 4 percent last year to almost $48,000, state data show, though the state still hovers slightly below the national average.
"We're seeing a nice uptick and we're closing the gap," said Michael Ziesch, a research analyst for Job Service North Dakota.
The state's average annual pay increased from $45,909 in 2012 to $47,779. The national average in 2013 was $49,316 but increased only 1.1 percent from the prior year, data show.
North Dakota's average annual wage has jumped a whopping 44 percent since 2007, when the oil boom began in earnest. The national average wage in 2007 was $44,038 compared with $33,086 for North Dakota workers.
Western North Dakota counties that produced oil last year held nine of the top 10 spots in average annual wages, Job Service figures show. They are: Williams, Slope, McKenzie, Dunn, Mountrail, Stark, Mercer, Burke and Divide counties.
Coal-rich Oliver County ranked fifth in wages. McLean County, also an oil producer, was No. 11. The 11 counties were the only ones of the state's 53 that topped the statewide wage average, data show.
Oil-rich Williams County ranked first for the second consecutive year with an average annual salary of $78,390 — more than triple the county's average wage a decade ago.
Before the oil boom, counties with lignite mining or power plants had the distinction of paying workers the best. But workers in the oil and natural gas industry earned an average salary of $111,451 last year, Job Service data show, while mining jobs paid an average $80,174. Jobs that supported the mining industry, such as those at power plants, paid an average wage of $98,609 last year, data show.
Tessa Sandstrom, a spokeswoman for the North Dakota Petroleum Council, said the state's unprecedented oil bonanza has done more than just fatten paychecks.
"I think it's helped create opportunities for young people to stay in the state or return to the state to work," said Sandstrom, whose group represents hundreds of companies working in North Dakota's oil patch. "There are a lot of opportunities for any skill set."
Cass and Burleigh counties, the state's most populous, both had small increases in average salaries driven in part to wages paid in western North Dakota, Ziesch said.
Cass County includes Fargo, and had average salaries last year of $44,244. Cass County ranked No. 16 among counties for wages last year, down from 13 in 2012. And Burleigh County, where Bismarck is located, had an average salary of $44,635. It rose from No. 15 to 14 in wages, data show.
"Certainly, the premiums being paid in the oil patch are spilling over statewide," Ziesch said. "There is competition across the state for more workers."
North Dakota has more than 25,000 unfilled jobs at present and the lowest unemployment rate in the nation, at 2.6 percent.
Four North Dakota counties — McIntosh, Wells, Logan and Sheridan — had average wages last year of less than $30,000. Seven counties had average wages below $30,000 in 2012, down from 11 counties in 2011.
Sheridan County, in central North Dakota, had the state's lowest average wage of $26,611 last year, but it was up from $25,606 the year before, data show.