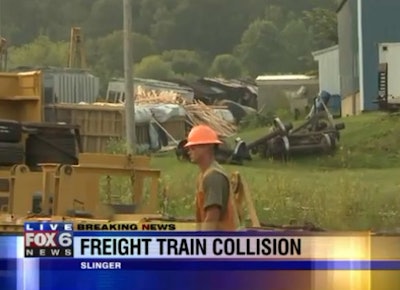 SLINGER, Wis. (AP) — A Canadian National Railway Co. train struck another freight train as it rolled through a small village in southeastern Wisconsin, causing cars to derail, injuring two people and spilling thousands of gallons of diesel oil that prompted the evacuation of dozens of homes.
The southbound Canadian National train struck several Wisconsin & Southern Railroad cars around 8:30 p.m. Sunday at a rail crossing in Slinger, according to Patrick Waldron, a Canadian National spokesman.
Three engines and 10 railcars derailed, Slinger Fire Chief Rick Hanke said. Slinger is about 35 miles northwest of Milwaukee.
An engineer and conductor on the Canadian National train were taken to a hospital with injuries that were not life threatening, Waldron said Monday.
About 5,000 gallons of diesel spilled from a locomotive fuel tank, Hanke said. Hazardous materials crews placed booms around the spilled fuel and crews worked to upright the derailed cars Monday morning.
Some 100 people who live near the crash site were evacuated from their homes as a precaution but they were allowed to return around 1:30 a.m., Hanke said.
Details about the cause of the crash were not available early Monday. Waldron could not say if the Wisconsin & Southern train was stationary at the time of the collision. A representative for Wisconsin & Southern could not immediately be reached.
Waldron said the Canadian National train was headed from Fond du Lac, Wisconsin, to Champaign, Illinois.