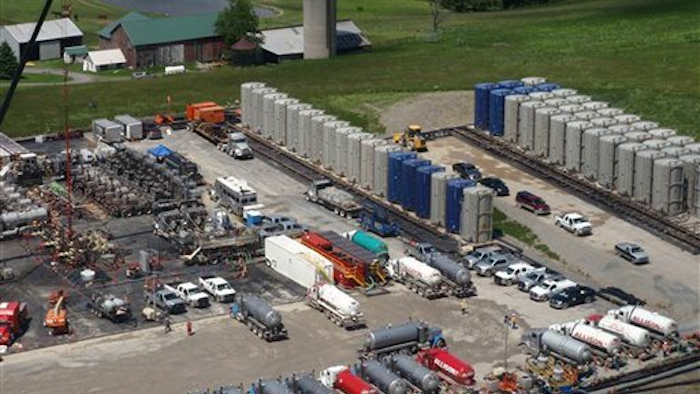 DONEGAL, Pa. (AP) — An elderly western Pennsylvania couple is struggling to cope after state officials say a natural gas drilling company's wastewater pond contaminated their drinking water.
The state Department of Environmental Protection has ruled that Ken and Mildred Geary's water was tainted by a leak from the WPX Energy Appalachia LLC site, the Pittsburgh Tribune Review (http://bit.ly/1yina8t ) reports. The drilling site is about 60 miles southeast of Pittsburgh.
The DEP has ordered the Tulsa, Oklahoma-based company to provide a permanent source of clean water to the Gearys and two other affected households. WPX claims the water quality is naturally resolving over time.
The DEP ruled that "WPX is responsible for the pollution of the water supply" and failure to provide an alternate source constitutes "a public nuisance and unlawful conduct."
WPX spokeswoman Susan Oliver said in a statement that the company is working with the families and the DEP, but contesting test results on the water quality. She claimed the company's water tests show the water of two families had "issues of odor, taste and visual appeal; (but) at no time were the families facing a health impact concern."
For now the Gearys have a large round water tank behind their house that connects to faucets and showers. The tank, in use since June, is filled weekly at WPX's expense, said Dolly Coffman, a daughter who is helping the Gearys navigate the process of getting clean water again.
"That's not a way of living," Coffman said. "All they want is good water. It ain't like they want a million dollars."
DEP spokesman John Poister said permanent outdoor water tanks are not an acceptable fix.