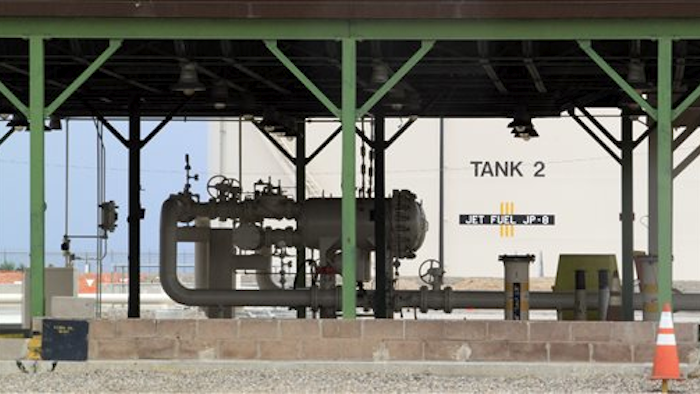 ALBUQUERQUE, N.M. (AP) — The U.S. Air Force still hasn't determined the extent of contamination from a fuel leak discovered 15 years ago at a New Mexico base, and it wants some reports it compiled on the leak tossed, according to a letter from a base commander to stage regulators.
In an Aug. 27 letter to the New Mexico Environment Department, base commander Col. Tom Miller asked to formally withdraw thousands of pages of reports on the Kirtland Air Force Base leak that the Air Force submitted to state regulators in March, the Albuquerque Journal reported (http://goo.gl/RRaf57 ).
The letter cites clerical errors and "data gaps" and says additional analysis is needed.
Officials say among the data gaps is a lack of information about how deep into Albuquerque's aquifer the contamination has reached. They know it has spread out at least a mile under an Albuquerque neighborhood, but they remain uncertain about its depth, officials said.
The Air Force agreed it needed to drill more monitoring wells in the southeast Albuquerque neighborhood adjacent to the base to try to answer that question. The wells will be drilled near Gibson and Louisiana SE, between known areas of contamination and the nearest drinking water wells.
Officials with the Albuquerque Bernalillo County Water Utility Authority repeatedly have pressed for answers to the depth question.
"I have been asking for that for probably three years," said Maggie Hart Stebbins, who represents the area on the Bernalillo County Commission and serves on the water utility board of directors.
State regulators say the new wells will help clarify the best way to approach halting the spread of contamination toward Albuquerque's groundwater.
"Filling the data gaps identified by the Air Force will ultimately aid in accelerating the cleanup process and lead to more effective final measures," Environment Department spokeswoman Jill Turner said in a written statement.
The spill was discovered in 1999 when Kirtland officials found a leaking pipe. It contaminated groundwater beneath Kirtland and southeast Albuquerque.
Two years later, base workers found contamination in a groundwater monitoring well and, by 2007, they realized that a substantial amount of fuel had migrated through soil layers more than 500 feet and was floating atop the groundwater.