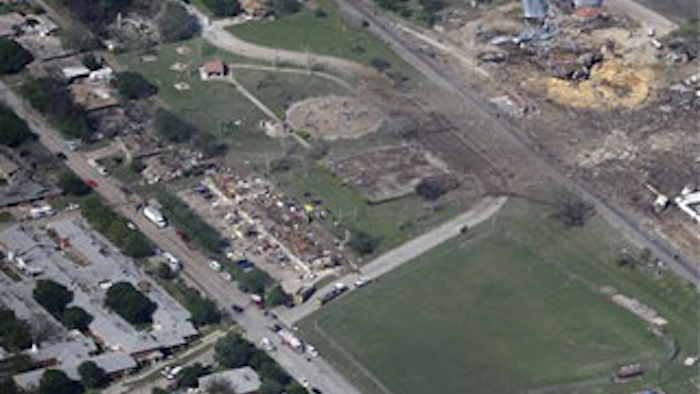 This Thursday, April 18, 2013 aerial photo shows the remains of a nursing home, left, apartment complex, center, and fertilizer plant, right, destroyed by an explosion in West, Texas. Rescuers searched the smoking remnants for survivors of Wednesday night's thunderous fertilizer plant explosion, gingerly checking smashed houses and apartments for anyone still trapped in debris while the community awaited word on the number of dead. Initial reports put the fatalities as high as 15, but later in the day, authorities backed away from any estimate and refused to elaborate. More than 160 people were hurt. (AP Photo/Tony Gutierrez)
WEST, Texas (AP) — A Texas law enforcement official says 12 bodies have been recovered following a massive explosion that leveled a fertilizer plant.
Texas Department of Public Safety Sgt. Jason Reyes said Friday that about 200 people were injured in the explosion at facility Wednesday night in the small farming community of West, about 20 miles north of Waco.
Search and rescue crews have been sifting through the still-smoldering remains for survivors. That work continues. The blast crumpled dozens of homes, an apartment building, a school and a nursing home.
Authorities say there's no indication that the blast was anything other than an industrial accident sparked by a fire. The company has been cited for apparently minor safety and permitting violations over the past decade.