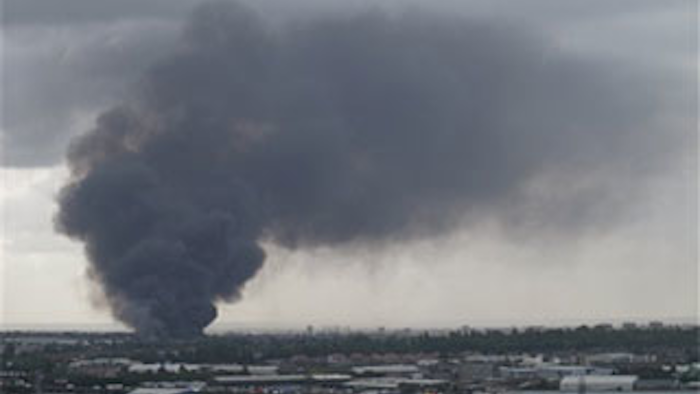 Smoke rsies from a fire at a recycling plant in Smethwick, Birmingham, England Monday July 1, 2013 as more than 200 firefighters tackle a blaze at the plastics recycling plant. West Midlands Fire . Emergency services were called to reports of a fire on Sunday night. Nearby residents have been advised to keep their windows and doors closed as a precaution. A West Midlands Fire Service spokesman said that they were currently dealing with a very large and dramatic recycling fire in Smethwick. "Due to the intensity of the fire, the smoke plume is rising 6,000 feet into the air, which may affect air travel." (AP Photo/Matthew Cooper/PA)
LONDON (AP) — A very large fire started by a paper lantern has consumed more than 100,000 tons of plastic materials at a recycling facility in central England.
Fire services said Monday more than 200 firefighters fought the blaze near the city of Birmingham.
Officials said in a statement that a paper lantern was spotted on CCTV floating into the site before starting a fire among plastic bales.
Fire services said the smoke plume made by the fire was rising up to 6,000 feet (1,800 meters) and may affect air travel. Birmingham International Airport spokesman David Lavender said officials did not anticipate any disruption to flights.
Officials said 11 firefighters were treated for various injuries. There were no reported injuries to the public.