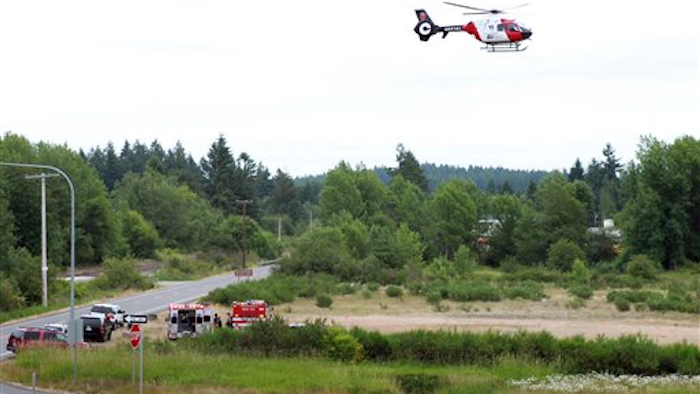 TENINO, Wash. (AP) — A 74-year-old man injured in an explosion Wednesday morning at a fireworks plant in Washington state died at the scene from his injuries.
The man died while awaiting an airlift to a regional trauma center, Thurston County sheriff's spokesman Lt. Greg Elwin said. Two others were hurt in the explosion near Tenino and have been taken to hospitals.
The call for help came just before 10 a.m. Wednesday from Entertainment Fireworks, Elwin told The Olympian. A small building at the facility was destroyed by the fire.
A 25-year-old man was airlifted to Harborview Medical Center in Seattle with burns and trauma, Elwin said. A younger man was taken by private vehicle to Providence St. Peter Hospital in Olympia, he said.
Mark Rorvic, 54, who lives across the street, told The Olympian that he awoke to the sound of the explosions.
"All of a sudden, all hell broke loose, and it was boom, boom, boom, boom," he said. "Horrific — it's the only way I could say it."
Rorvic said he used to work for the fireworks company, which puts on professional shows.
A call to Entertainment Fireworks was answered by someone who said they had no comment at this time. On its website, Entertainment Fireworks says it's the largest fireworks company based in Washington. It puts on fireworks displays and distributes fireworks.
A tweet from the Thurston County sheriff's office says there is no indication of criminal activity at the explosion and deputies will assist regulators when they arrive to investigate.
Investigators from the U.S. Bureau of Alcohol, Tobacco and Firearms were at the scene within hours of the explosion.