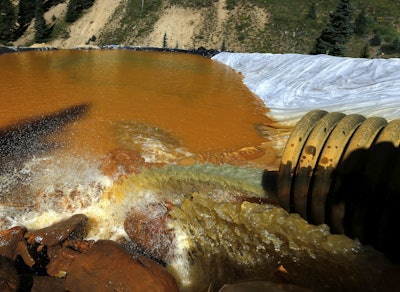 BILLINGS, Mont. (AP) — Republicans alleged a "whitewash" of a Colorado mining accident that unleashed 3 million gallons of toxic wastewater and requested a nonpartisan investigation after Interior Secretary Sally Jewell said Wednesday she'd seen no evidence of criminal negligence in the case.
The spill was triggered by a U.S. Environmental Protection Agency cleanup crew doing excavation work in August at the inactive Gold King mine near Silverton, Colorado. It fouled rivers in Colorado, Utah and New Mexico with contaminants including arsenic and lead, temporarily shutting down drinking water supplies and raising concerns about long-term impacts to agriculture.
The accident prompted harsh criticism of the EPA for failing to take adequate precautions despite warnings that such a blowout could occur. Yet Jewell said a review by her agency showed the spill was "clearly unintentional."
"I don't believe there's anything in there to suggest criminal activity," Jewell testified during an appearance before the House Natural Resources Committee.
Immediately after Wednesday's hearing, Committee Chairman Rob Bishop asked Congress's non-partisan Government Accountability Office to investigate the Interior Department's evaluation of what happened. The Utah Republican accused Jewell and other agency officials of stonewalling his repeated efforts to obtain documents relevant to the spill.
Bishop also questioned why the authors of the Interior evaluation included an agency official, civil engineer Michael Gobla, who discussed cleanup work at Gold King with EPA prior to the spill. Gobla also worked with theEPA during its response to the accident.
"How can you claim this report was even remotely independent?" Bishop asked.
California Republican Rep. Tom McClintock later added that the Interior review was "a complete and deliberate whitewash."
With assistance from the minority Democrats on the House panel, Jewell sought repeatedly during the 2-1/2-hour hearing to steer the conversation to the broader issue of tens of thousands of abandoned mines on public and private lands across the U.S.
Many of those are "legacy" mines whose owners have long since abandoned them, leaving taxpayers potentially on the hook for cleanup costs.
There is little money to spend on old mines that could cost tens of billions of dollars to clean up, Jewell said, leaving government officials struggling simply to determine the scope of the problem.
Rep. Don Beyer, a Democrat from Virginia, suggested Republicans were distracting from that broader issue with their focus on who was at fault in Colorado.
"We are having another hearing that ignores the elephant in the room. Instead we are looking at a scapegoat," Beyer said.
The response to the Gold King spill had cost the EPA almost $17 million through Nov. 24, according to an agency spokeswoman.
The spill occurred when workers for EPA and its contractor, Environmental Restoration LLC, started excavation work that was intended to allow them to safely drain the mine.
Federal officials have not released documents related to the Gold King investigation that The AP has sought through public records requests. That includes criticisms over the scope of the Interior evaluation, from a U.S. Army Corps of Engineers geotechnical engineer who peer-reviewed the agency's work.
Jewell aide David Palumbo, the deputy commissioner for operations at the U.S. Bureau of Reclamation, said during Wednesday's hearing that pending record requests were under internal review to determine what documents could be released.
Among the questions still unanswered is why EPA's cleanup crew was seemingly caught unaware by the accident. A June 2014 EPA work order warned of the potential for a catastrophic blowout at Gold King after pressurized water had built up for years inside the collapsed entrance to the mine.
There's also lingering disagreement over the role played by Colorado officials in the lead-up to the spill. Colorado officials have said they had no authority to manage, assess or approve any work at Gold King.
But officials from both the EPA and Interior have continued to insist that personnel from the Colorado Division of Reclamation and Mining Safety had agreed to the work being done when the blowout occurred.