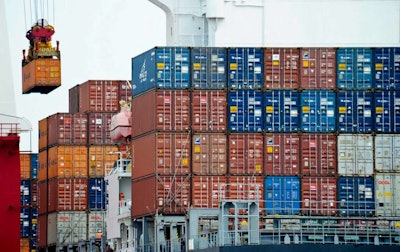 China's export growth accelerated in March in a positive sign for global demand, though import growth cooled.
Exports rose 16.4 percent from a year earlier to $180.6 billion, up from 4 percent growth in the first two months of the year, according to customs data released Thursday. Imports rose 20.3 percent to $156.6 billion, down growth in January-February of 26.4 percent.
The unexpectedly strong exports are a positive sign for Chinese leaders who want to avert job losses in trade-related industries while they try to nurture consumer-driven economic growth.
"External demand appears to have strengthened further," said Julian Evans-Pritchard of Capital Economics in a report. "On the other hand, however, there are signs that the jump in imports on the back of China's recent economic recovery may now be starting to lose steam."
China's politically sensitive global trade surplus contracted 20 percent from a year earlier to $23.9 billion.
The trade surplus with the United States was $17.7 billion and the gap with Europe was $7.7 billion.
On Wednesday, U.S. President Donald Trump removed a potential threat to Chinese export performance when he said he won't label Beijing a currency manipulator. The announcement represented a reverse from Trump's campaign promise to issue such a declaration, which would open the way to possible sanctions.
"They're not currency manipulators," Trump told The Wall Street Journal. He said a U.S. declaration of that China manipulated the exchange rate of its yuan to gain a trade advantage could jeopardize talks with China on North Korea.
It is rare for American leaders to link trade or currency disputes to broader international security efforts against countries such as North Korea.
Asked whether his currency decision was part of an agreement over North Korea, Trump responded: "We're going to see. We're going to see about that."