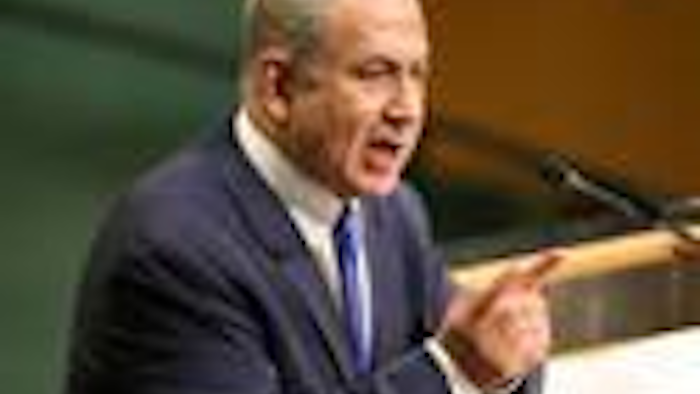 UNITED NATIONS (AP) — The latest on the high-level U.N. General Assembly meetings (all times local):
8:45 p.m.
South Korean Foreign Minister Yun Byung-se says North Korea has failed as a nation because of its "fanatical and reckless" pursuit of nuclear weapons and ballistic missiles and its membership in the United Nations should be questioned.
Yun, addressing the U.N. General Assembly's annual ministerial meeting Thursday night, said North Korea has failed repeatedly to abide by its obligations under the U.N. Charter.
"I believe it is high time to seriously reconsider whether North Korea is qualified as a peace-loving U.N. member, as many countries are already questioning," he said.
North Korea conducted its fifth and most powerful nuclear test to date on Sept. 9, claiming it as a successful nuclear warhead detonation that proved its ability to mass produce "standardized" nuclear weapons that could be used on missiles. The Security Council strongly condemned the move and is currently discussing the possibility of tougher sanctions on the country.
___
6:45 p.m.
Iran's president says his country is following the U.S. elections but it's not important who wins.
Hassan Rouhani told reporters at a news conference on the sidelines of the U.N. General Assembly's annual ministerial meeting that what's important is whether the winner is willing "to respect the rights and dignities of nations," particularly Iran.
He said Iran won't just be looking for that willingness but also for action "to show ... a decrease in tension."
Then, Rouhani said, the U.S. will receive an "equal response" from Iran.
During the last 38 years, Iran has seen different presidents from different parties.
"But altogether the people of Iran are not happy (with) the results of the ... behavior and actions of the United States governments, not a specific administration, many administrations," Rouhani said. "It has caused a severe deficit in trust, a severe gap."
He expressed hope that the next president will respect Iran's national interests and safeguard the nuclear agreement, which he called "vital" to the two countries and the world. He said this will reduce tensions between the two countries.
___
5:30 p.m.
Iran's president has rejected a U.S. call for all warplanes to halt flights over aid routes in Syria saying any grounding of aircraft will aid "the terrorists."
Hassan Rouhani told a news conference Thursday on the sidelines of the U.N. General Assembly's annual meeting that "the terrorists" opposing President Bashar Assad have sophisticated military equipment including mortars, tanks, missile systems and artillery — but they don't have an air force.
The U.S. proposal was certain to be on the agenda of a meeting of the roughly 20 nations that have declared interests in Syria, including Iran, on Thursday afternoon.
"When we ground flights, then we're taking a step against righteousness and for and in support of terrorism," Rouhani said. "So this course has no foundation, no logic."
Iran strongly backs Assad's government and Rouhani said the first priority now should be getting aid to those in need. The second must be a continued focus "on the fight against terrorism," and the third should be "to pave the proper path" to elections including all groups and political parties in Syria, he said.
___
4:40 p.m.
Hungary's Foreign Minister Peter Szijjarto rejects criticism of an upcoming referendum on whether to accept possible EU quotas to resettle migrants.
The Oct. 2 referendum has been criticized by rights groups for fomenting xenophobia and intolerance.
"International law says very clearly that the right to a safe life is a human right, but it is not a human right to pick a country where you would like to live in," Szijjarto said Thursday on the sidelines of the U.N. General Assembly.
He said even if voter turnout fails to reach the 50 percent needed for it to be valid it would send a strong statement of the people's will. Szijjarto added that far from damaging image abroad, he feels the Hungarian position has the support of the European people.
___
3:40 p.m.
The leaders of small Pacific nations are giving emotional tributes to Ban Ki-moon for becoming the first U.N. chief to visit their part of the world in seven decades.
Their speeches have been tinged with concern about whether Ban's successor would be as big a champion of small island countries.
Kiribati President Taneti Maamu told the U.N. General Assembly on Thursday that he "quite sad that though that this is the last general debate of our beloved secretary-general."
Maamu thanked Ban for his "unwavering commitment and passion focusing global attention on the most vulnerable."
Ban, whose term ends in December, visited Kiribati in 2011 as part of his efforts to mobilize a global fight against climate change. Maamu said he was "so proud" that Ban became the first U.N. chief to visit his country.
A day earlier, Nauru President Baron Waqa said Ban's enduring legacy would be his "tireless efforts to ensure that no country is left behind, no matter how small." He said Ban has an "open invitation to visit Nauru."
Micronesia President Peter Christian said Wednesday he hoped the next secretary-general also would be "responsible and effective for and behalf of us all, not just elite nations."
___
1:40 p.m.
Prime Minister Benjamin Netanyahu is inviting Palestinian Authority President Mahmoud Abbas to address Israel's parliament, the Knesset.
In a speech before the U.N. General Assembly on Thursday, Netanyahu said that in return he would like to address the Palestinian Legislative Council.
"I am ready to negotiate all final status, but one thing I will never negotiate is the right to a one and only Jewish state," Netanyahu said, arguing that recent changes in the Middle East would lead to improved relations with Israel's neighbors.
He also predicted that Israel would have a bright future at the U.N. as world governments grew to appreciate Israel's contributions to cyber-security and the fight against terror among other things.
The Palestinians have rebuffed Netanyahu's past offers for meetings, saying there is no point given his hardline positions on all core issues.
___
12:45 p.m.
Palestinian President Mahmoud Abbas is urging the U.N. General Assembly to declare 2017 "the international year to end the Israeli occupation of our land and our people."
As the 50th anniversary of Israel's "abhorrent" occupation approaches in June 2017, Abbas also called on the international community to exert greater effort than at any time in the past to establish a truly independent Palestinian state.
He accused Israel of "continuing to evade" an international conference that France wants to hold before the end of the year to focus on a framework and timeline for ending the occupation.
Abbas said "our hand remains outstretched for making peace" but he questioned whether any Israeli leader is ready to make "a true peace ... that will abandon the mentality of hegemony, expansionism and colonization."
___
11:30 a.m.
El Salvador's President Sanchez Ceren is telling the U.N. General Assembly that building walls is not the answer to the challenges of migration.
Ceren said Thursday that the only way to stop Central Americans from fleeing poverty and violence is through "efforts aimed at improving the conditions of the communities were migrants come from."
"A wall is not the solution because it generates more hate," he said.
Republican presidential candidate Donald Trump has vowed to build a wall along the southern U.S. border and make Mexico pay for it.
___
11:15 a.m.
The Lithuanian president is urging the international community to make women a central part of its pursuit of global development goals.
Making gender equality the cornerstone of her address to the U.N. General Assembly, Dalia Grybauskaite said the world's greatest challenges cannot be addressed without full participation of women, who are "often more impacted, but left behind and ignored."
"Only if all members of the society - both women and men - are fully represented and engaged, can the world's future be truly sustainable," Grybauskaite said Thursday.
___
11:00 a.m.
Iran's president is blaming world powers for the spread of terrorism over the past 15 years, saying their "repression and military intervention" has led to a more insecure world.
Hassan Rouhani also accused regional rival Saudi Arabia of spreading "hate ideology" in the region in speech Thursday to the U.N. General Assembly that touched on familiar Iranian concerns. He also criticized a U.S. Supreme Court ruling allowing families of victims of bombing attacks linked to Iran to receive monetary damages from the country. At risk for Tehran is 1.75 billion in bonds, plus accumulating interest.
At the same time, he praised the nuclear deal reached with the United States and five other powers last year as a "win-win approach" for both sides.
___
10:45 a.m.
Japanese officials say that Prime Minister Shinzo Abe requested that Iran cease military cooperation with North Korea.
Abe made the request at a Wednesday meeting with Iranian President Hassan Rouhani on the sidelines of the U.N. General Assembly.
The officials spoke on condition of anonymity as they were not authorized to speak publicly about the conversation between the two leaders.
The appeal from Abe reflects a desire to cut sources of revenue for North Korea's nuclear and missile programs.
The officials say Rouhani responded that development of weapons of mass destruction would not contribute to world stability and he supports denuclearization of the Korean Peninsula.
According to the U.S. Congressional Research Service, there's no evidence that Iran and North Korea have engaged in nuclear cooperation but they have on missile technology.
___
9:00 a.m.
India has branded Pakistan a "terrorist state" in a stinging response to Pakistan's criticism of Indian suppression of protests in disputed Kashmir.
India exercised its right of reply in the U.N. General Assembly late Wednesday. It was responding to Pakistan's Prime Minister Nawaz Sharif who had demanded a U.N. probe into "brutalities" by Indian forces.
Indian diplomat Eenam Gambhir described that as a "hypocritical sermon."
She blamed Pakistan for a rebel attack Sunday that killed 18 Indian soldiers in Kashmir, the deadliest attack on a military base there for years.
She said: "What we see in Pakistan is a terrorist state, which channelizes billions of dollars, much of it diverted from international aid, to training, financing and supporting terrorist groups as militant proxies against it neighbors."