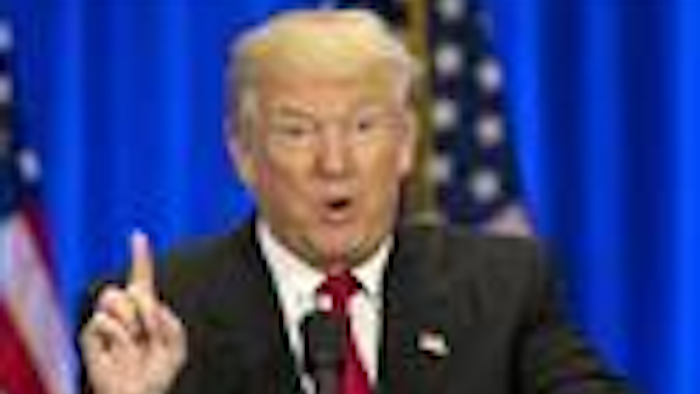 WASHINGTON (AP) — The Latest on the U.S. presidential campaign. (all times EDT):
3:45 p.m.
The State Department says former Secretary Hillary Clinton failed to provide a copy of a key message involving problems caused by her use exclusively of a private homebrew email server.
That makes it unclear what other work-related emails may have been deleted by the presumptive Democratic presidential nominee.
The email was in a string of messages exchanged Nov. 13, 2010, between Clinton and one of her closest aides, Huma Abedin. At the time, Clinton's emails were being blocked by her department's spam filter. A suggested remedy was that Clinton use a government email account. Clinton responded to Abedin that she didn't "want any risk of the personal being accessible."
The email was first quoted in a blistering government audit last month, but a copy was not released until this week.
___
3 p.m.
New York City officials have imposed a $10,000 default penalty on the Trump Organization after company representatives missed a hearing to resolve Trump Tower zoning violations.
A Trump lawyer was supposed to attend an administrative hearing Thursday over violations of a special permit that makes the building's lobby public space. But nobody representing Donald Trump showed up.
Trump got permission to make his namesake luxury skyscraper bigger in exchange for keeping the atrium public and following certain rules.
After Trump officials installed two kiosks in the lobby to sell Trump merchandise and removed a bench, buildings inspectors issued tickets.
The kiosks have been removed but inspectors say the bench hasn't been replaced.
Trump executive Michael Cohen says the company will seek a new hearing.
___
2:50 p.m.
Liberal organizations are pouncing on Thursday's Supreme Court decision blocking President Barack Obama's policies to protect millions of people here illegally from deportation.
The Latino Victory Fund and Priorities USA Launch have produced a 30-second digital ad featuring a young woman who came to the U.S. illegally as a child and was granted temporary legal status under Obama's program.
Giancarla Rojas says in the ad that she would lose everything if Obama's program were taken away.
The ad also features the voice of presumptive Republican nominee Donald Trump promising to terminate Obama's executive order.
The digital ad is scheduled to start next week and run for 14 days in Nevada, Colorado and Florida. All are battleground states with large numbers of Hispanic voters.
___
2:40 p.m.
Presumptive GOP nominee Donald Trump is commending the Supreme Court's decision blocking President Barack Obama's efforts to shield millions living in the U.S. illegally from deportation.
Trump says in a statement that, "Today's 4-4 Supreme Court ruling has blocked one of the most unconstitutional actions ever undertaken by a president."
He says the split decision "makes clear what is at stake in November."
The Supreme Court deadlocked 4-4, effectively killing the president's effort to provide protections for parents of children who are in the country legally and an expansion of the program that benefits people who were brought to this country as children.
Trump has vowed to deport all of the roughly 11 million people living in the United States illegally.
__
2 p.m.
Donald Trump says in a radio interview that he would prefer to use his companies' resources for campaigning without paying them.
The presumptive Republican presidential nominee is pushing back on complaints that his campaign has paid millions of dollars for event space at his venues. Previous political candidates have carefully separated their business ventures from political efforts.
An Associated Press analysis found that Trump's campaign spent about $6 million on various Trump products and services, as well as reimbursing family members for travel. Some Trump purchases include airplane costs and Trump-branded wine and bottled water.
"By law, I have to reimburse the aircraft and the plane and all the stuff," Trump said in an interview Thursday with conservative talk show host Hugh Hewitt. "And I'm very meticulous about it."
___
1:50 p.m.
Republican Donald Trump says he has officially forgiven more than $50 million in loans to his campaign.
The presumptive GOP nominee's campaign says in a statement that, "Mr. Trump has fully extinguished (terminated) this loan per his commitment."
"Therefore, he has personally invested in excess of $50 million dollars in the future of our country."
Trump had long stated that he had no intention of reimbursing himself for the loans that funded his primary campaign. But his decision to lend himself the money, instead of contributing it outright, fueled speculation that he might one day change his mind.
Trump campaign finance chair Steve Mnuchin told CNBC earlier Thursday that Trump had forgiven the loan this week. He also said Trump would continue to give personally to the campaign.
Federal election filings show Trump had loaned the campaign $45.7 million as of May 31.
___
12:45 p.m.
Hillary Clinton plans to address one of the country's oldest Latino civil rights organizations at its annual convention in Washington next month.
The presumptive Democratic presidential nominee's remarks to the League of United Latin American Citizens, or LULAC, will come just weeks after a Supreme Court ruling blocking President Barack Obama's immigration plans.
The decision Thursday ensures that immigration will remain a central issue in the fall campaign, particularly among Latinos turned off by Republican Donald Trump. He has called for a wall to be built on the U.S.-Mexican border and pledged to throw out all people living in the U.S. illegally.
Clinton called the ruling "unacceptable" on Thursday. She has promised to expand Obama's proposal to shield millions of immigrants in the U.S. illegally from deportation.
___
12:05 p.m.
Hillary Clinton says a tie vote by the Supreme Court blocking President Barack Obama's immigration plan is "unacceptable."
Thursday's ruling effectively kills Obama's plan to shield millions living in the U.S. illegally from deportation — a plan Clinton supports.
In a statement released by her campaign, Clinton defended the legality of Obama's plan, saying the ruling was "purely procedural." But, she says, it's a reminder of the "harm Donald Trump would do" to immigrant families and "how much damage" Senate Republicans are causing by refusing to consider Obama's Supreme Court nominee, Merrick Garland.
She said as president, she would "do everything possible under the law to go further to protect families."
___
9:05 a.m.
Hillary Clinton has announced the endorsement of more than 40 business leaders, part of an effort to win support from independents and Republicans worried about Donald Trump.
Many of the chief executives touted by the campaign Thursday had previously declared their support for Clinton, including Facebook's Sheryl Sandberg and Berkshire Hathaway's Warren Buffet. But the group also includes some longtime Republicans like AT&T Services Inc's Jim Cicconi and Dan Akerson, formally of General Motors Co. and Nextel Communications Inc.
Their support comes two days after Clinton delivered a speech warning that Trump's economic policy would lead the country back into recession.
The Clinton campaign has been working to organize support from Republican business leaders and foreign policy experts, who question Trump's experience and policy plans.
___
3:44 a.m.
Donald Trump's presidential campaign is trying to recover from a rocky stretch of dipping poll numbers and limping fundraising. But at week's end he's tending to business in Scotland.
For his first international trip since becoming the presumptive Republican nominee, Trump is checking on a pair of his championship golf resorts. The Trump Turnberry golf course has undergone a $300 million renovation, and Trump also owns a golf course in Aberdeen, Scotland.
His campaign says Trump doesn't plan any meetings with Scottish political leaders. He arrives a day after the United Kingdom votes on whether to remain in the European Union.
Trump's trip to Scotland has some Republicans worrying that his attention is divided between his businesses and his campaign.