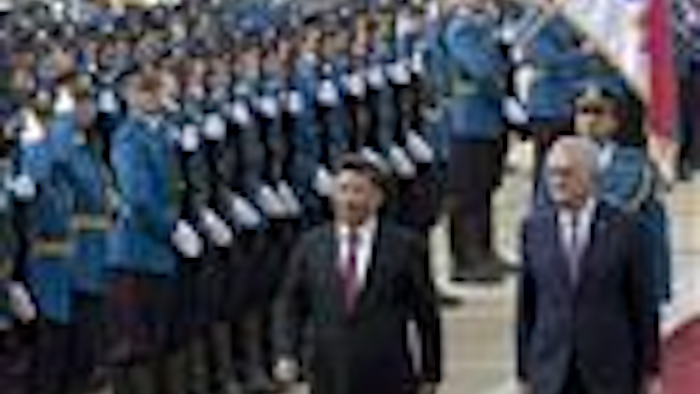 SMEDEREVO, Serbia (AP) — China's President Xi Jinping said Sunday his country's relations with Serbia should serve as an example for other nations in central and southeast Europe where the Asian power is seeking to boost ties.
Xi was touring the Zelezara Smederevo steel plant at the end of his three-day visit to Serbia, before leaving for Poland. He was cheered on by flag-waving workers at the plant, which was recently bought by a Chinese steel giant.
Xi's trip reflects China's efforts to increase its presence in the region and in Europe. China is interested in energy, infrastructure and other big projects to fuel its economy at a time when labor costs are rising at home.
In Poland, Xi will ink deals on finance, aviation, science and education. Poland has sought to develop trade and business ties with China, which it sees as a large market and a counterweight to strictly regulated business ties within the European Union.
Xi will wrap up the trip in Uzbekistan.
China and Serbia have signed a strategic partnership deal and 21 other agreements in trade, infrastructure and other fields as officials pledged to further improve ties.
"Let the Chinese-Serbian cooperation set a good example for cooperation with other nations of central and eastern Europe," Xi said in Smederevo, a town on the Danube river. "Serbia holds an important, strategic position."
Serbia's cash-strapped economy is desperate for foreign investment following years of international isolation during the wars in the 1990s. The Balkan country is a candidate for European Union membership and Xi has supported the bid.
China's Hebei Iron and Steel Group signed a 46 million euro ($52 million) deal in April to buy the loss-making Zelezara Smederevo plant from Pittsburgh-based U.S. Steel. The deal was closely watched by the EU amid concerns about overcapacity in the steel sector, which European steelmakers blame partly on a glut of cheap Chinese steel.
Prime Minister Aleksandar Vucic said Sunday that Chinese investors will turn the plant into "the best European steelworks."
One of the employees, Sasa Jakovljevic, hailed Sunday as a "historic day" for him and his family.
"We expect our steel plant to start working normally. We expect the town to revive and things to get much better," he said.