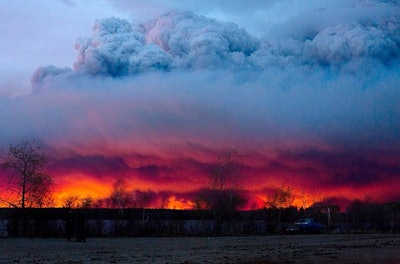 A massive, raging wild fire moved south and forced three more communities south of Canada's main oil sands city to evacuate on Thursday.
Officials with the Rural Municipality of Wood Buffalo had been notified of changing weather patterns and weren't taking chances, ordering the evacuation of Anzac, Gregoire Lake Estates and Fort McMurray First Nation. The fire has already forced the evacuation of more 80,000 people and torched 1,600 homes and other buildings in Fort McMurray. The province of Alberta declared a state of emergency.
In the early hours Thursday, weary evacuees from Fort McMurray were sitting on buses headed for Edmonton after being forced out of their temporary shelter in nearby Anzac.
They had arrived there late Tuesday after being evacuated from their homes in Fort McMurray. By Wednesday morning, the Anzac recreational center was a bustling hub filled with people, tables of food and rows of cots. By that evening, it was eerily silent and empty.
There was some good news — Fort McMurray's water treatment plant was saved, and Scott Long of Alberta Emergency said the downtown core was being held "through some Herculean efforts" of firefighters. There was still no indication of injury or death from the fires.
But the images were largely ones of devastation — scorched trucks, charred homes and telephone poles, burned out from the bottom up, hanging in the wires like little wooden crosses.
Alberta Premier Rachel Notley flew up to survey the situation first-hand, and tweeted "heartbreaking" pictures of the fire from above. As high as her helicopter was, she said the plumes of smoke reached even higher.
"So far, I'd have to say people have been amazing," she said in the evening, after a visit with evacuees at a giant Edmonton sports arena. "They've been incredibly patient. They've followed what they've been asked to do. They're focusing on taking care of each other, their families, their neighbors."
Unseasonably hot temperatures combined with dry conditions have transformed the boreal forest in much of Alberta into a tinder box. Fort McMurray is surrounded by wilderness in the heart of Canada's oil sands — the third largest reserves of oil in the world behind Saudi Arabia and Venezuela.
About 10,000 evacuees moved north, where oil sands work camps were being pressed into service to house people. But the bulk of the evacuees fled south to Edmonton and elsewhere, and officials said they eventually would like to move everyone south.
Shell said it has shut down production at its Shell Albian Sands mining operations— about 60 miles north of the city — so it can focus on getting families out of the region. Suncor, the largest oil sands operator, said it is reducing production at its regional facility - about 15 miles north of the city. Many other companies evacuated nonessential staff.