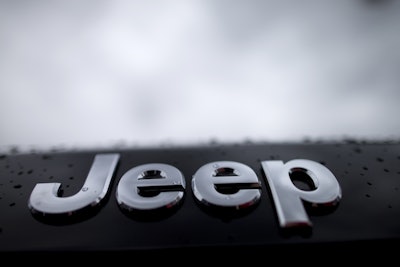 Chrysler's Jeep has been declared green by the Japanese government, becoming the first gasoline-engine American-made U.S.-brand vehicle to qualify for this nation's green-car tax incentive.
The U.S. automaker said Friday the 2016 Jeep Cherokee Trailhawk meets the emissions and fuel-efficiency standards allowing buyers to take a tax break of about 58,000 yen ($530) off the price tag.
The vehicle sells for about 5.1 million yen ($47,000) in Japan, although the cost depends on the model grade and other options.
American cars, with their longtime reputation as gas-guzzlers, have struggled to woo buyers in Japan, the home of Toyota Motor Corp., the world's No. 1 automaker, as well as Honda Motor Co. and Nissan Motor Co.
The Japanese makers boast a reputation for producing gas-sipping models, like hybrids and subcompacts.
The news about the Cherokee marks a bit of a milestone not only for the Jeep brand but also for U.S. autos.
Chrysler Japan spokesman Akira Suzuki says 7,510 Jeep vehicles — 726 of them Cherokee models — were sold in Japan last year.
The Jeep Cherokee was listed among the 10 best cars in the 2014-2015 Japan Car of the Year Award, the first time an American vehicle made it to that list, generally dominated by the Japanese.
"At Jeep, we don't sacrifice operating efficiency for capability," said Mike Manley, who heads the Jeep brand at Chrysler, based in Auburn Hills, Michigan.
The Cherokee Trailhawk gets 10.3 kilometers a liter (24 miles per gallon) under Japanese mileage tests and earned a four-star emissions rating, according to Fiat Chrysler.
The Jeep Cherokee lineup is produced at the Toledo Assembly Complex in Toledo, Ohio.