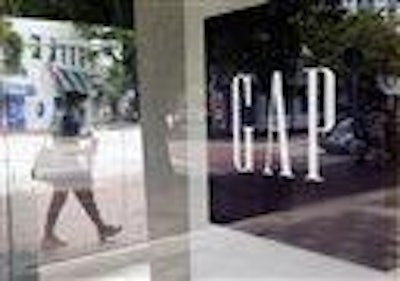 NEW YORK (AP) — Gap's shares are taking a hit in after-hours trading after the clothing chain offered a weak profit outlook.
The outlook, issued Thursday, came as the San Francisco-based chain reported a 33 percent drop in fourth-quarter profits as business was hurt by a strong U.S. dollar and strategic moves to turn around its ailing business.
The results, announced after regular trading on Thursday, show the continued challenges that CEO Art Peck, who took over the helm a year ago, faces in turning around the business. The company has worked to improve its fashions and trimmed its fleet last year. But it hasn't been able to get shoppers to buy without offering a fat discount. Even Old Navy, until recently a bright spot, has seen its business falter in the last few quarters.
The company has also had some management upheaval. Last fall, Old Navy President Stefan Larsson, who spearheaded the growth of Old Navy, resigned to take the CEO job at Ralph Lauren Corp. Then, the creative director for the Banana Republic brand, Marissa Webb, who was hired to re-energize Banana Republic, stepped down after dismal results.
The chain says fourth-quarter profits were $214 million, or 53 cents per share, for the three-month period ended Jan. 30. That compares with $319 million or 75 cents per share, in the year-ago period.
Adjusted profit results were 57 cents per share, a penny above analysts' estimates, according to FactSet.
Revenue slipped nearly 7 percent in the quarter to $4.39 billion, in line with estimates.
Gap's revenue at stores opened at least a year fell 7 percent in the quarter. By division, Gap's metric fell 6 percent, while Banana Republic suffered a 10 percent drop, and Old Navy was flat.
Looking ahead, the company says that it expects earnings per share for fiscal 2016 in the range of $2.20 to $2.26 per share. That is well below analysts' forecasts for $2.43 per share. The forecast includes the negative currency impact of about 19 cents, or over $120 million pretax. That's because of the strong U.S. dollar which hurts the value of revenue generated overseas.
The company also announced its board authorized the repurchase of up to $1 billion in stock.
Gap Inc.'s shares fell more than 3 percent, or 86 cents per share, to $26.74 in after-hours trading. During regular trading, the stock rose 32 cents to $27.60.