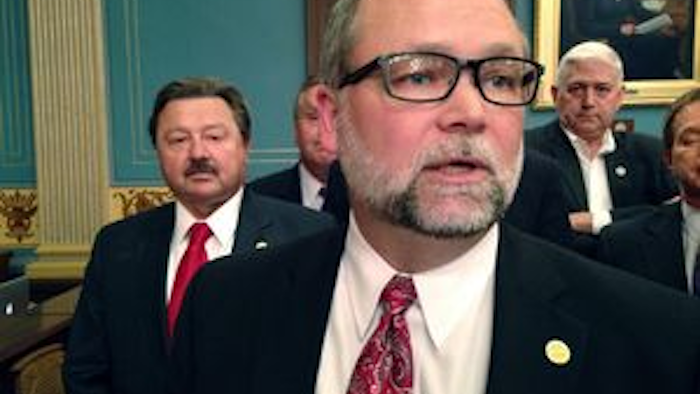 Amid strong Republican gains in statehouses nationwide in recent years, debates over "right-to-work" legislation have generally been the most prominent union-related issues.

Union-heavy states Indiana and Michigan enacted such laws, which prohibit requirements that workers join a union as a condition of employment, in 2012. Now, lawmakers in those states and a handful of others are considering overhauling or eliminating another labor-supported policy: prevailing wage laws.

Prevailing wage laws require laborers on public works projects to be paid at the average wage -- including benefits and overtime -- of workers within that particular area. The Davis-Bacon Act has mandated such standards on federal projects since 1931, and many of the 32 current state prevailing wage laws have been on the books for decades.

Although right-to-work laws have a more immediate impact on manufacturing operations and costs, the federal prevailing wage law, for its part, also applies to the manufacturing of supplies on the site of qualifying projects.

Manufacturing for public projects completed at different facilities would not apply under the law, but prevailing wage laws would impact project costs overall. Critics argue the laws artificially inflate wages and, by extension, the costs of already-expensive government-funded projects.

"You're talking about local governments and school systems that build buildings, and by using prevailing wage, it generally costs them 10 percent more," said Michigan Senate Majority Leader Arlan Meekhof, who supports efforts by Republicans in that state to repeal the law.

Supporters say the laws prevent companies from undercutting local bidders on public projects, and from utilizing cheaper or less-skilled workers as a result. They argue projects conducted without the prevailing wage are more likely to see cost overruns, and Michigan Gov. Rick Snyder, a Republican, has raised concerns about the impact of a repeal on the state's skilled trades.

"If you think about it, manufacturing went through a huge change in terms of productivity ... you had unskilled people doing many functions in the manufacturing process," Snyder said. "There's almost no unskilled left."

Meanwhile, the author of Indiana's right-to-work law has indicated he hopes to repeal the prevailing wage law, too, although the chair of the state House's labor committee has yet to act on it.

"It's not that hard to understand. You have a group of people who get together to set an artificial wage rather than the free market," said Rep. Jerry Torr. "It's really that simple."

Discussions about prevailing wage changes have also popped up in a handful of other states, including West Virginia, Nevada, Kentucky and Connecticut.

Passage of additional prevailing wage repeals could deal yet another blow to unions, whose wage rate could be used to determine the local prevailing wage. In addition to ongoing battles in statehouses, a new federal report showed union membership last year declined slightly compared to 2013, continuing a decades-long slide as a percentage of the overall workforce.