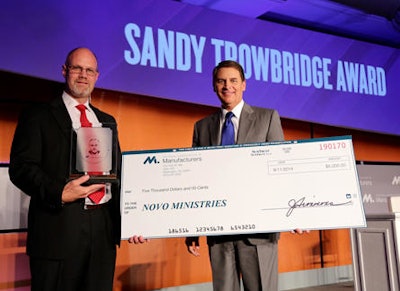 The National Association of Manufacturers (NAM) recognized Kimray, Inc. of Oklahoma City, Oklahoma, with the Sandy Trowbridge Award for Excellence in Community Service at the NAM's Board of Directors meeting. The Trowbridge Award honors an NAM member company that has shown exemplary leadership in serving its community or state and is an example of the giving spirit of our nation's manufacturers and businesses.
Every year, 10 percent of Kimray's operating profits are donated to support community charities, amounting to $2.7 million in 2013. Kimray also matches every employee's charitable contribution, dollar for dollar, up to $2,500 each year. Employees give their time generously, serving local humanitarian efforts, such as inner-city youth programs and educational endeavors. In addition, Kimray serves the community in other practical ways, such as providing equipment and manpower after tornadoes devastated Oklahoma communities in May 2013.
"Kimray has built a company culture around making a difference in the lives of those they serve and in their community, fulfilling the legacy and tradition Sandy Trowbridge embraced throughout his life," said NAM President and CEO Jay Timmons. "The NAM is proud to honor the men and women at Kimray as well as CEO and Chairman Tom Hill, his wife Kay, and their son Thomas III. Manufacturers are the building blocks of their communities. Kimray exemplifies the positive impact of local businesses on people's lives."
The Trowbridge Award is named after the late Alexander B. "Sandy" Trowbridge, former secretary of commerce who served as NAM president from 1979 to 1989. Trowbridge was known for his leadership on behalf of manufacturing and for his strong commitment to community service.
"We are honored to receive the Sandy Trowbridge Award," said Kimray CEO and Chairman Tom Hill. "Kimray has a long tradition of investing in our community because we truly want Oklahoma to be a great place to live, work and raise a family. If you want something to change, you have to get involved."