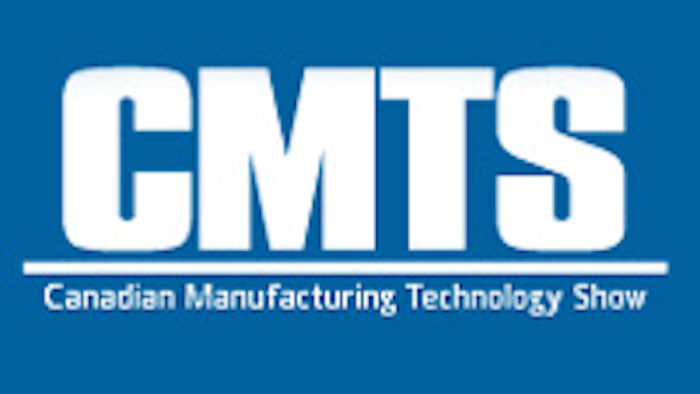 [[{"fid":"29228","view_mode":"default","type":"media","attributes":{"height":200,"width":200,"style":"float: right; margin: 20px;","class":"media-element file-default"}}]]
CMTS 2013 to be bigger and better than before, say show organizers
Toronto, Ontario — Canada's manufacturing eyes will be on the newly-improved The International Centre this fall as the country's national manufacturing event, the Canadian Manufacturing Technology Show (CMTS), returns to the venue after 14 years in downtown Toronto. Asking visitors to "expect more" from the upcoming show, organizers are poised to unveil more details of the dynamic changes to this year's bigger-and-better event in the months to come.
WHAT: Canadian Manufacturing Technology Show (CMTS) 2013     
WHEN: September 30 – October 3, 2013
WHERE: The International Centre, 6900 Airport Road, Mississauga
ABOUT: Canada's largest and most respected manufacturing event, presenting the most up-to-date industry developments and solutions to more than 10,000 manufacturing professionals from across the country and around the world. Featured are the latest technologies and solutions in the machine tool, tooling, metal forming and fabricating, automation, design engineering and plant management segments.
FEATURING: Premiere industry education both on and off the show floor through a combination of 500+ dynamic exhibits and dozens of new products by the industry's who's who, live equipment demonstrations, top speakers, interactive panel discussions, cutting-edge conference sessions, multiple networking hubs and one-on-one meeting programs.
AUDIENCE: Manufacturing representatives from all areas of the industry, including automotive, aerospace, medical, energy, government, agriculture, food processing, construction, electronics, computers, commercial, industrial, oil and gas, and much more.
PRESENTED BY: Society of Manfacturing Engineers (www.sme.org), the world's leading resource for manufacturing information and knowledge. With Canadian headquarters in Toronto, SME promotes an increased awareness of the value of manufacturing among industry professionals and the public, while supporting educational initiatives and introducing career options for those entering the industry. For half a million manufacturing engineers, executives and members in more than 70 countries around the globe, SME is the source for knowledge, networking and skills development opportunities that help advance careers, companies and industries.
PARTNERS: Strategic event partners include Canadian Machine Tools Distributors' Association, Canadian Tooling and Machining Association, Canadian Manufacturers & Exporters, Automotive Parts Manufacturer's Association (APMA), Canadian Wind Energy Association (CanWEA) and the Business Information Group.
 CONTACT: For more information, or to register, please visit www.cmts.ca or 1-888-322-7333 ext. 4426.